Last Updated:

Feb 6, 2017 - 2:32:04 PM
---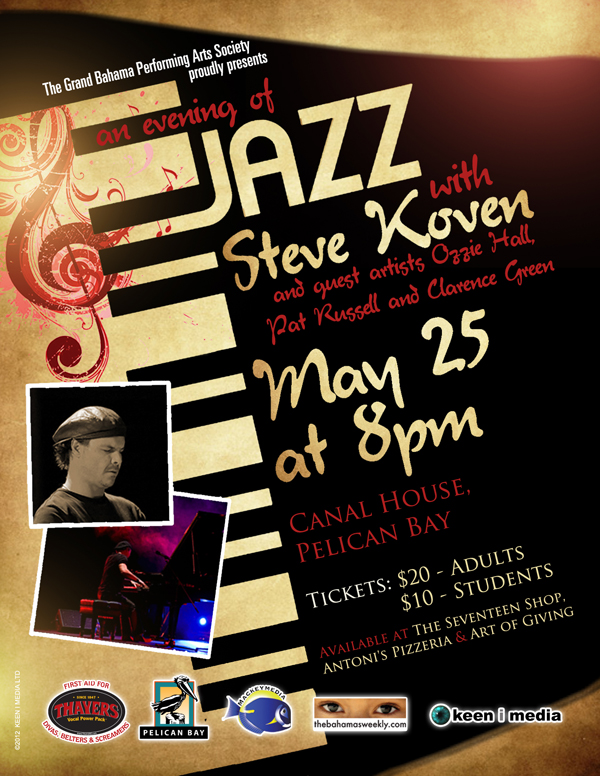 Freeport, Bahamas - It's been a busy year so far for the Grand Bahama Performing Arts Society, but before taking a break for the summer, the Society is treating the island to an evening of classic jazz starring Toronto jazz pianist, Steve Koven on Friday, May 25th at the Canal House at Pelican Bay. This world class musician, composer and teacher has traveled the world, performing with his trio and in solo concerts, and conducting workshops for musicians where ever he goes.

This is not the first time Steve has performed in The Bahamas, but it is his first visit to Grand Bahama, and he couldn't be more excited. Not only will he get to enjoy some of what the island has to offer, and do what he loves best, but he gets a chance to perform with some of the islands most talented local musicians, Ozzie Hall, Patrick Russell and Clarence Green.

Many of you are already familiar with the wonderful musical talents of Ozzie and Patrick, but Clarence Green is new to the local music scene. Green who happens to be Grand Bahama's newest chiropractor plays the upright double bass, an instrument that does not get much play time on the island, because until he arrived, there wasn't one. Green was raised by very musical parents and has played various instruments, his first instrument being the trumpet. He played electric bass for many years, but took on the challenge of the upright double bass about 12 years ago.

And believe it or not, this is not his first time performing with Steve Koven. The two have played together in jazz concerts several times in Barbados

, where Clarence lived prior to moving here,

including at the Canadian High Commission

.

The last time they played together took place 3 years ago. It is by chance that this musical reunion will take place on Grand Bahama, and another example of what a wonderful small world it is!

Tickets for this concert are only $20 for adults and $10 for students and can be purchased at The Seventeen Shop, Antoni's Pizzeria, and The Art of Giving/Starbucks.

Spots are also still available for the jazz workshop on Saturday morning at 11am at only $10. This workshop is for musicians, ages 13 and up and will focus on the development of improvisational tools as well as musical self expression. Steve will also use jazz and blues to help demonstrate different improvisation ideas. Those wishing to attend should contact Gloria McGlone for details (373-2887 / 727-9198 ). Special rates are available for workshop and concert combo.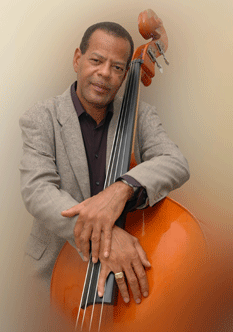 Dalia Feldman, founder and president of the GBPAS is encouraging the public to take advantage of these wonderful musical opportunities. "We work hard to enhance the wonderful performing arts community that already exists on the island by exposing the public to as many different types of music and performances that we can. Thanks to our wonderful sponsors we are able to bring the costs down for performances to a price that everyone can afford, and we think it is so important to provide affordable workshops and learning opportunities for our local artists as well. Workshops of this caliber would cost well over $25 any where else. Our goal here is not to make money, but to provide a wonderful learning opportunity for our local musicians, students and professionals. It is only with the public's support that these opportunities can continue."

The GBPAS wishes to thank their members, patrons and sponsors who make these programs possible. Special thanks go to Pelican Bay Hotel for not only accommodating Steve Koven, but for also providing a wonderful venue for this concert; Karen Clarke and John Gehr, of Thayer's Natural Remedies, The Bahamas Weekly, Keen i Media, and Mackey Media.
The Grand Bahama Performing Arts Society was created to bring professional artists and performers from around the world to audiences in Grand Bahama. Drawing from Bahamian and international talent, a number of performances are planned throughout the year. Proceeds are used for the advancement of Grand Bahama students of the performing arts . Join the Society: In addition to contributing directly to this success, Membership entitles you to Advance Notice of Events, special Members Only Events, as well as Discounts at participating GBI restaurants. Persons can become a fan of the Society on Facebook or contact the committee for membership details at gbperform@gmail.com.





© Copyright 2012 by thebahamasweekly.com

Top of Page