From:TheBahamasWeekly.com


Arts & Culture
New Poetry Collection Offers Verse from the Bahamas
May 10, 2012 - 10:30:23 AM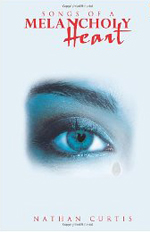 Nathan Curtis, only 18 years old, offers his first book of poetry to worldwide readers



Nathan Curtis' new poetry collection, Songs of a Melancholy Heart (published by Trafford Publishing), crosses boundaries, speaking about issues affecting everyday life.

Curtis defines his poetry as bold, daring and innovative, saying "… it crosses boundaries speaking about issues affecting everyday life, informing the world of keys to move forward in life and how to deal with crises." He maintains that Songs of a Melancholy Heart was written not just as a poetry text to glorify one, but as a text to glorify all of those unsung heroes who survived rape, abuse and poverty. "This book is an anthem that all can find a poem to sing."

An excerpt from Songs of a Melancholy Heart:

I have always believed that poetry among the other forms of writing, cannot be taught; it is a skill similar to writing lyrics that an individual uncovers during times of financial, mental or physical distress to inspire and warn others, who have not yet encountered this difficulty, to make wise decisions to avoid meeting this fate in their lifetime.

By this statement, I'm certain you ponder intensely in your mind, asking yourselves what has he encountered to draw such conclusion? Although still young, I must state that I have encountered more in my years of life what some face in a lifetime. Many days I wrestled with ideas that some may insist that I receive psychiatric help to somehow ease the ride on the mental, physical, and emotional roller coaster.

Curtis has high hopes for the effect his words will have on readers. "I want readers to be empowered to be aware to be informed," he says. "To love, to know what it is to love. I want them to understand themselves when they finish reading the book and how to love and to cherish themselves. I want them to look at life after reading and say I can do anything."



About the Author

Nathan Curtis lives and writes in the Bahamas.

Trafford Publishing, an Author Solutions, Inc. author services imprint, was the first publisher in the world to offer an "on-demand publishing service," and has led the independent publishing revolution since its establishment in 1995. Trafford was also one of the earliest publishers to utilize the Internet for selling books. More than 10,000 authors from over 120 countries have utilized Trafford's experience for self publishing their books.




© Copyright 2012 by thebahamasweekly.com -