From:TheBahamasWeekly.com


Arts & Culture
(VIDEO) Author, Marina G. Sarles discusses her new book (Pt.1)
Jun 3, 2011 - 10:36:58 PM

Freeport, Grand Bahama Island - In this enlightening interview recorded at Mackey Media Ltd, Marina Gottlieb Sarles explains the inspiration behind her new book entitled; The Last Daughter of Prussia - a novel about the evacuation of East Prussia during WW2. The novel was inspired by the diaries, letters and photo albums of her grandparents.

This interview is the first of several video segments on her book. Marina is also the author of the book Sand in My Shoes, a delightful collection of short stories about life in the Bahamas.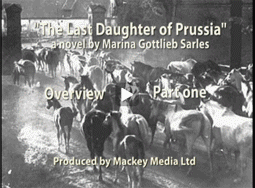 © Copyright 2011 by thebahamasweekly.com -