From:TheBahamasWeekly.com


Focus on Fashion
Fashion Week Goes Eco, Aussie Style
By Robbin Whachell, The Bahamas Weekly News Team
Nov 30, 2017 - 8:07:30 PM



Welcome to Country by Badji Moort Dancers at the opening of Eco Fashion Week Australia held at Victoria Hall, Fremantle, Western Australia.


Fashion Gets Ethical Down Under...

Australia could well be leading the way in the slow fashion movement. With a promise to deliver sustainable fashion to Perth on a global level by promoting and showcasing ethical designers and artists, the inaugural Eco Fashion Week Australia (EFWA) did just that from November 23 to 27 in Fremantle at Victoria Hall. And, it did so to rave reviews from all those in attendance.

Created by Zuhal Kuvan-Mills, the founder of Australia's first internationally recognised organic fashion label, Green Embassy, the five-day event had over 44 designers which included 11 international designer shows, making for a packed and exciting display of eco fashion. Emcee for the week was Angie Ayers.

While Canada, Spain, India, Africa, Vietnam, Indonesia, USA and Japan were represented, the focus was on Australia with 22 local or national designers. Big names like Merino Country, Green Embassy, and Curtin Springs put on first class full-length runway shows, whereas fashion students from Curtin University, Edith Cowan University (ECU), and RMIT University were just as well received.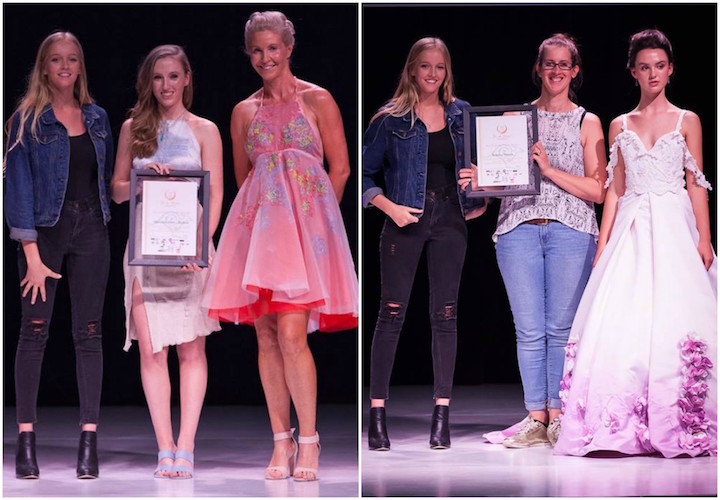 Anita Moon Awards of Excellence went to Sheridan Joyce / Skylark for Best Australian Emerging Designer; and to Rebecca Timson for Best Australian Student Designer. Olga Perkins received the Best Australian Home Sustainable Garments (Sewer and Knitter) Award.

Sista of JAC was awarded a 1-year license with Australian Made.

Kuvan-Mills also awarded graduate scholarships and showcasing their work on opening night were: D'arcy Coad / ECU; Jack Gardner / ECU; Jane Ziemons / ECU; Katherine Tavener / ECU; Llynnette C. Neil / ECU; Pei-Sun – Curtin Univ.; Julia English – RMIT. Overall 18 student runway shows were seen throughout the event.

The media gala was held at the quaint Swan Valley location of Taylor's Art & Coffee House in full Australian style and had an Aboriginal 'Welcome to Country' ceremony by the Baldja Moort dance group along with an Aussie barbecue as 15 designers walked under the eucalyptus trees with one signature piece. See all media launch photos here.

The opening gala at historic Victoria Hall (Fly by Night Musicians Club) in Freemantle on November 23 saw each designer walk the runway with their top design giving the audience a taste of what was to come. See all gala photos here.


Designers used earth-friendly materials,highlighted the preservation of textile arts like batiking, and traditional techniques in fabric making and dying. Eco Fashion Week Australia promotes zero waste, upcycling, and recycling.

The Upcycling Challenge by Marilyn R. Wilson of Canada, brought together 21 looks from 12 countries made only from upcycled men's shirts. Patti Desante, also of Canada presented designs from Malawi Africa.

Australian designers were: Alteva, Arcaro Couture, Azulant Akora, Barbwire Noose, Chaynika, Claudi, Curtain Springs, Eco Fashion Sewing, Elle Evans Swimwear, Fabric of Nature, Gemini Kite, Green Embassy, Jude Taylor, Lima Jordan, Madame Tikki Boutique, Merino Country, Simone Arnold, Sista of JAC, Skylark the Label, Stain, Verdant The Label, and Vitamin by Sonalika. Curtin University (Australia) Student Showcases were seen by Abbey Forsyth, Claudia Marcial, Ella Steiner, Ivee Gail Gualao, Kate Hannah, Liana Marie McNeill, Molly Ryan, Paige Groves, Rebecca Timson, and Thivyah Retinasekharan.

International designers were: Connally Mcdougall; Kirsten Ley; and Salvij by Gigi of Canada; Mymarini of Germany; Shravan Kumar from India; Merdi Sihombing of Indonesia; Studio Membrane of Japan; Heke Designs; and Senorita AweSUMO from New Zealand; Sylvia Calvo of Spain; Prophetik of USA; and Things of Substance from Vietnam.


A fashion week first -- each night of shows featured the well received 'Style it Green' collection, where 5 audience members volunteered for a unique makeover with an op shop, 'little black dress' outfit styled by Dalija Vlahov, Eco Fashion Stylist. Those that had the makeover, and walked the runway also took away a $25 gift certificate for the ReLoved fashion store (RSPCA op shop).


On top of fashions, eco education was a high point, as the "Disposable Planet" free seminar was held at Curtin University with the following speakers: D. Anne Farren, Head of Fashion Design at Curtin University; "The Impact of Fast Fashion on the Oceans" by Jeff Hansen, Managing Director of Sea Shepherd Australia; "Salmon and Sustainability," by Robbin Whachell, Hoy-Scott Watershed Society, Canada; "Australian Made Fashion: Leveraging 'local' in the branding process" with Ben Lazzaro, Australian Made Campaign Ltd.; "How the Future of the Fashion Industry is in Our Hands," by Melinda Tually, Fashion Revolution of Australia and New Zealand; "How to Use Recycled Fashion to Build a Circular Economy," by Edwina Huang, CEO Vivify Sustainable Textiles; and "Rethinking Clothing Culture," with Jane Milburn, Sustainability Consultant, Textile Beat.

Eco workshops also covered repurposing plastic bags; upcycling, batiking, and clothing repair. Workshops were led by Marie Mitchell, Jane Milburn, Mariana Kirova, and Merdi Sihombing.


A live stream conversation with fashion design students from University of Girona in Spain took place, giving them a runway show, and behind the scenes (hair and makeup) peek. The livestream was coordinated by Spanish designer, Sylvia Calvo; and students also spoke to eco fashion blogger, Kristen Leotsakou; and sponsor, EFWA media liaison and speaker, Robbin Whachell.

One of the most memorable moments of the week was a presentation by the aboriginal Noongar People to Japanese designer, Hiroaki Tanaka of Studio Membrane, who incorporated their culture into his runway show. He was honoured to receive a boomerang.

Eco Fashion Week Australia has definitely taken slow fashion to the world. Kuvan-Mills and her international production team represents a global community of like-minded individuals who care about the planet and sustainability. Coupled with the myriad of Australian supporters, from the sponsors to the mother's of models who helped behind the scenes, this was definitely a group effort, and something Australia should be extremely proud of.


Sponsors for EFWA 2017 were: TCFWA, TCF Australia, TCF Global, Australian Made Campaign, Fly By Night musicians Club, Taylors Art and Coffee House, Green Embassy, Dowerin GWN Machinery Field Days, Loig's Music Lab, Dene Selby Modelling Agency, Rainforest Rescue, RSPCA-Reloved Fashion, Mercado32, Vivify Textiles, Salon Express, Bali Eco Stay, Curtin University, and ECU along with Media Partners Eluxe Magazine, The Bahamas Weekly, Peppermint, Olio by Marilyn, Style Drama, Textile Beat and MOCHNI.COM, Kristen Leo, The Green Hub, Eco Warrior Princess, and Tommi Magazine.

For every EFWA ticket sold, $5 went to Sea Shepherd Australia, and another $5 went to replanting the Daintree Rainforest. Nicola Potter was the lucky ticket winner who received a 3-night stay at Bali Eco Stay.

Get more information at ecofashionweekaustralia.com



PHOTOS

by Harry Leonard Imagery can be seen at the event's Facebook page HERE.







© Copyright 2017 by thebahamasweekly.com -