From:TheBahamasWeekly.com


Focus on Fashion
Islands of the World Fashion Showcase 2012 a Huge Success!
By Latha Jayakumar, (Editing by Robbin Whachell) The Bahamas Weekly News Team
May 17, 2012 - 11:55:25 PM




Nassau, Bahamas - Crisp white lifeguard chairs flanked the runway as Islands of the Worlds Fashion Showcase came life and held up to its reputation as the number one fashion event in the country. The mood was This year marks significant change as

Mode Îles, Ltd., the organizers of the award-winning Islands of the World Fashion Week event have made

significant changes as the production will now

be a twice annually event in both May and November.

The enthusiastic crowd at the Sheraton Nassau Beach Resort was buzzing with anticipation as fashionistas, visitors to The Bahamas, and local notables such as Dr. Andrew Burnstine, Pamela Burnside, local pageant queens, and many others filled the room to capacity.

The Showcase opened with the vibrant acrobatic skills of the toned and colourful Islands of the World Dancers with the female dressed in carnival-inspired sparkly bikini tops, feather skirts and feathered head-dresses, set against the buff men in strong and simple black.


First to take the runway were designs by Coutureboy, a men's swimwear and underwear company. The fitted briefs were in sensible and varied color combinations. The male models looked great and Bahamian model Drew Palacious admitted to getting in a quick workout before the show, to get some last minute definition and tone.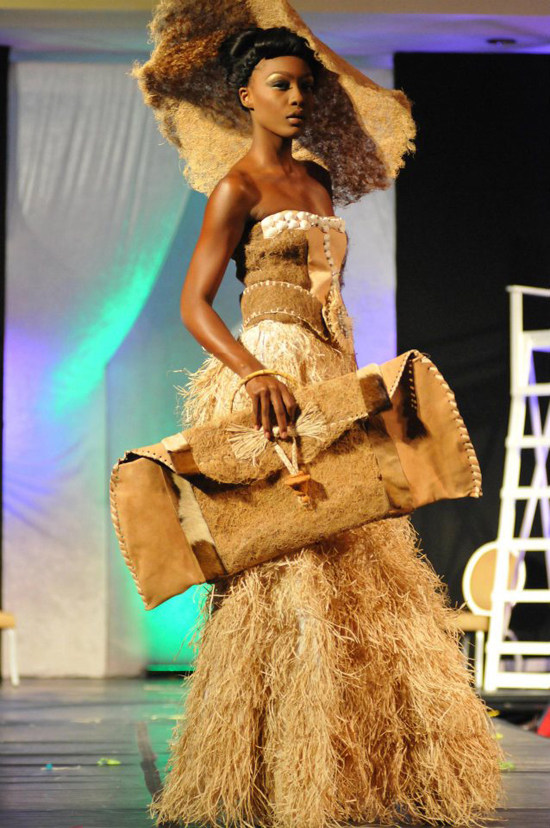 Next up was the St. Lucian line, Jaeylu INC. featuring a collection inspired by a wonderful mix of French Creole and oriental fashion. Designer Sharleen Lagon said "the idea came from a contest I posted on our Facebook page. We asked our fans what would be inspiration for a great show and we designed from that French/oriental suggestion". Each Jaeylu INC, garment embodied femininity and were heavily influenced by both cultures. The opening piece worn my Bahamian model Tomii Culmer truly showed the line's unique hybrid of the two very distinct cultures. The line consisted mainly of a black silk-like material designed with Kimono or Chinese traditional styles with the accents of Mandarin collars in French Creole colors.
Bahamian jewelry designer Autumn Crop debuted her line of the same name, Autumn Crop. The collection consisted of bold and colorful designs which stood out beautifully against the models skin. The line has recently been sold at the Bahamas Ministry of Tourism's Bay Street Festival.

The Bahamian line Zatthu INC, walked the runway showing off luxe swimwear and resort wear. The line by Grand Bahama designer, Courney McIntosh has clothing for both men and women which compliments the wearers body in what could be considered risque and unique ways. The designer used funky shimmery fabrics, sparkles and swimsuit materials in fabulous ways. The garments made the models stand out with the unique cuts and well thought out color combos.
Four designers participated from The Bahamas for the Jackson L. Burnside III Fashion and Design Award, which is a tribute to the late Caribbean architectural icon from The Bahamas. Valaria Pintard, Elizabeth Clarke, Reuno Pratt and Apryl Burrows were awarded and all designed garments that echoed Jackson L. Burnsides style of architecture and design. The fashions were made from a smorgasbord of materials including shells, woven materials, and vinyl.
Carol Alexis Fraser from Guyana brought her line Miracle Hands Designs to the runway next. Her garments were well-designed and inspired by the natural flora of Guyana. The men modeled African style kaftans. Fraser mimicked the look of banana leaves and island flowers on her garments with bold cutaways throughout the fabric exposing skin beneath. A plus-sized model was featured among this designer's model selection which has become the second time a plus-size model has walked the runway in Islands of the World history.

Adele 13 showed their line of uniquely knitted and wearable crocheted swimwear for men and women along with cover-ups.
Keisa Eastwick from Barbados wowed the crowd with her dedication to detail and eye for design. Her garments were one of the best received by the crowd as many of her looks were fashionable on the runway, but could easily be adjusted and worn for a distinctive look for any special event. Her use of geometric shapes and curves drew the eye from the model's head to toes. Her Heather Collection was named after her mother who she said is a "strong independent woman who has helped me so much." The line conveyed the image of a fearless, beautiful woman with flowing silhouettes and sharp details that tied together to create memorable pieces.

Next was La Roma Collection created by Alexis Campbell of Barbados. Inspired by the Greek culture and ancient Egyptian style creating a hybrid look of a warrior and goddess while mixing soft chiffon with hard leather. The mixing of the delicate, with the durable, was eye catching and the designs of the garments were well thought out to highlight various parts of the body. This collection could translate easily off the runway into reality.
NextGen Award winner from IWFS 2012, David Rolle of Nassau, Bahamas presented his line, House of Raphelita with great showmanship. Rolle created a story and cause to accompany his presentation which featured many garments constructed of orange lace influenced by the theme of capital punishment. David said that he does not believe in capital punishment, but rather in forgiveness as "killing one person, that has killed another, only makes the punisher a murderer too". David paired his designs with inimitable shoes that looked like something out of Lady Gaga's closet. He also had all the models wear black mesh bags over their heads to go with his theme.
Harl Taylor BAG of The Bahamas was the only designer handbag company to show, possibly because none other could compete. The Harl Taylor designs were breathtakingly beautiful and detailed. The woven bags were walked down the runway accompanied by models in white Egyptian-style cloth wraps. Each bag was a woven masterpiece with luxurious linings, detailed wood appliques and beading. Mrs. Beverly Taylor, who has taken over running the line started by her deceased son Harl Taylor said, "I used the designs Harl sketched before his death. He was very talented and now I can continue to show his talents to the world. He was taken from us too soon". Harl Taylor Bags are sold in high-end department stores in the United States and are owned and enjoyed by such celebrities as Oprah Winfrey and Kimora Lee Simmons.
Van der Vlugt by Darcel de Vlugt of Trinidad and Tobago was a big crowd-pleaser. de Vlugt's designs were beautiful and featured whimsical cuts and unique styles that were playful, yet elegant. The collection had a classic feel by cut, but also had modern elements, such as plunging necklines, bold bright patterns, and above the knee hemlines.
Bahamian award-winning designer, Theodore Elyett closed the show with his line. This collection was a sharp change from bright and bold collections already seen, with Elyett's use of a more neutral color pallet and modern or classic designs, perhaps influenced by his recent time spent in New York studying at Parsons School of Fashion. The line presented was elegant, wearable and a pleasure to view. All the garments were well-constructed and draped beautifully on the models. While holding on to classic inspirations of culture and prints, Elyett was able to evolve his style into a tailored and sophisticated look. Ending with a definitive statement, Elyett wrapped up his show with the models walking out together 'en masse' rather than in a singular line. This last touch made the perfect ending to a fabulous showcase!

Islands of the Worlds Fashion showcase is a wonderful event that allows Island-based designers to get noticed. The fashion industry of the Caribbean and surrounding areas is growing and it is easy to predict that many of the designers that showcased here will become big names in the fashion world.

The final segment of Islands of the World Fashion Showcase 2012 takes place on Saturday, May 12th with the awards presentation. Stay tuned for our further coverage coming to TheBahamasWeekly.com!


© Copyright 2012 by thebahamasweekly.com -