From:TheBahamasWeekly.com


Chew On This! - Maurisa Glinton
A Paradise of Plates indeed!
By Maurisa Glinton
Jun 2, 2011 - 4:22:10 PM



Nassau, Bahamas - May 21st was the annual Hands for Hunger event, Paradise Plates on Paradise Island. Various restaurants, caterers and vendors all came out in support donating their time, resources and creative efforts to the annual charity event. While I was officially there in a work capacity, I was also there as an avid Culinarian. The event was any food lover's dream. You get to walk around a room all night full of delicious and creative bites, sample wines and beer, be entertained by amazing bands, schmooze with friends and all for a good cause. It was a who's who of the culinary elite.

D

une and

Mesa Grill were both

represented for the Atlantis and One and Only hotel chain.

Mesa Grill

o

ffered the bold flavors of a Bahamian Spiced Chicken Skewers with Yogurt Sauce

,

while Dune offered up a delicious and fresh

Grouper Aromates-Herb Mash

.

Dune's presentation was bright and beautiful with a stunningly nonchalant grouper as their table centerpiece.

The British Colonial put on quite a showcase with flourishing fountains of chocolate and fruit coulis for their eye catching and popular create your own Ice cream Sunday theme. While I didn't get the opportunity to take part in the fun, the tablescape was so vivid and inviting that it kept the patrons coming back all night.

Luciano's showed up with their on the spot Paella pot. It was HUGE, and filled with lots of seafood. Large rings of Calamari, sweet Mussels and plump shrimp all came out to play in this rather brave undertaking. Paella is difficult to keep evenly warmed without overcooking the rice to mush and the seafood to rubber, however they managed to do a rather good job of keeping everything in nice harmony.



Balduccino Fine Food

s had a nice ode to a culinary classic with their trio of Mac and Cheese Lollipops. Deliciously deep fried balls of Bacon, Truffle and traditional Mac and Cheese paired with Balsamic glazes and caramelized onion relishes were a fun yet elegant rendition of a classic.

I had the honor of working with my fabulous new team from Food Art by Cacique. Once again Food Art illustrated the meaning of its name. This year we produced an edible secret Garden wall, which boasted the flavors of Thailand. With Thai chili prawns with edible flowers and Thai with coconut beef skewers also with edible flowers, Tomato and Thai Basil shooters and Mango Mint shooters, we put out a vibrant and also delicious display.

By all rights the night was seemingly a success. For me personally it was a great night and the food and wine was a terrific end to a grueling 16 hour day. This is an event that everyone should try and support in the years to come. My love of food is a joyous one and is only saddened by the thought that everyone in the world does not have equal access to both its beauty as well as its sustenance. Hands for Hunger is raising money as well as awareness for a cause that is a very important and very real one. People are starving right her on our own shores. It is not everyone else's problem; it is our own people that are going hungry. Please be mindful of waste as well as our community at large. We are all capable of lending a hand to stop hunger.

If you want to learn more about the Hands for Hunger organization head over to their page on Facebook or check out their website at http://www.handsforhunger.org.



Interested in more Food Art by Cacique find us on Facebook or get more contact info at our site

www.foodartbycacique.com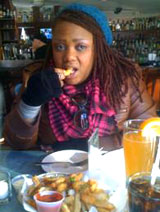 About the author: Maurisa Glinton is a Grand Bahamian native. She is an Entrepreneur, Chef and Writer. She has a B.A. in Psychology and Writing, as well as Diplomas in Culinary Arts and Culinary Management. She is a Festival Noel winner and the Head Chef/ Owner of Social Butterfly Catering Services . Evidence of her passion for food and its surrounding culture comes across clearly in her cooking and her writing. Maurisa is also the writer of her own Food Blog, Chez Mo Truth . Maurisa currently resides in Nassau and can be reached at chezmotruth@gmail.com . You can also follow her on Twitter as @ChezMoTruth .


© Copyright 2011 by thebahamasweekly.com -