From:TheBahamasWeekly.com


Bahamas International Film Festival
Debra Messing Wins BIFF Shining Star Tribute
By Lindsay Thompson, BIS
Dec 12, 2014 - 8:01:51 AM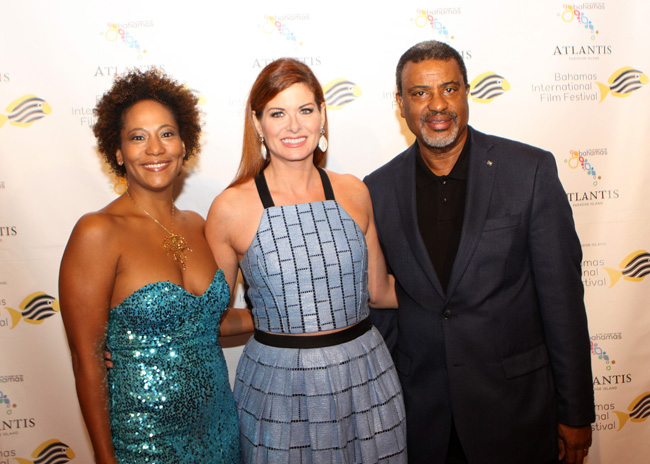 SHINING STAR: The 11th Annual Bahamas International Film Festival officially opened Friday, December 3 at the Atlantis Theatre on Paradise Island. Pictured on the Red Carpet are Leslie Vanderpool, Founder & Director of BIFF; American actress Debra Messing, the Shining Star Tribute honouree; and Craig Woods, Commissioner of Film, Ministry of Tourism. (BIS Photo/Patrick Hanna)


NASSAU, The Bahamas – In keeping with 2014 being observed as the Year of Culture, the Ministry of Tourism has continued its support of the 2014 Bahamas International Film Festival.

The 11th Annual BIFF officially opened Friday, December 3 at the Atlantis Theatre on Paradise Island, with the Shining Star Tribute to American actress Debra Messing, known for the Will & Grace sitcom.

Commissioner of Film at the Ministry of Tourism, Craig Woods said he was especially pleased to welcome visitors, visiting filmmakers and actors to these beautiful islands of The Bahamas.

For the past 11 years, BIFF, along with other festivals has nurtured a new avenue for cultural exchange – the sharing of voices, ideas, experiences and dreams through film.

"These things come with special meaning this year, as 2014 was observed as the Year of Culture, as proclaimed by the Rt. Hon Perry Christie, Prime Minister of the Commonwealth of The Bahamas," Mr. Woods said.

"This observance of culture is especially fitting for the film world since this year also marked the re-discovery of a little-known film pioneer, who despite going practically unnoticed today, revolutionized arts and entertainment roughly 100 years ago."

Mr. Woods noted that the Ministry of Tourism had the privilege of being included in the Museum of Art's recent exhibition on the life and work of Bahamian entertainer Bert Williams – who broke many racial barriers in his career in the early 1900s. He was the star of the film that is the earliest known movie featuring an all-Black cast.

The film had not been seen for more than 100 years before it finally debuted at the Museum of Art as part of an exhibition last month, he said. "So, considering the legacies of actors such as Bert Williams and Sir Sidney Poitier, The Bahamas has made some outstanding contributions to the world of film," he said.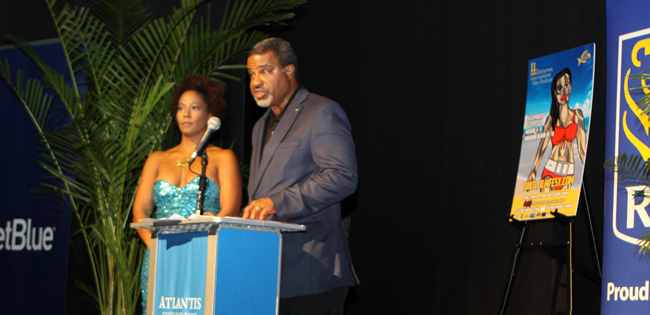 Commissioner of Film at the Ministry of Tourism, Craig Woods addressing the 11th Annual Bahamas International Film Festival on Friday, December 3 at the Atlantis Theatre on Paradise Island. Also pictured is Leslie Vanderpool, Founder & Director, BIFF. (BIS Photo/Patrick Hanna)


Mr. Woods also acknowledged that several Bahamians were part of BIFF 2014, and it is greatly anticipated that they will continue the country's tradition of performing excellent art works. Such Bahamians and their works are Gina Rodgers-Sealy and Kevin Taylor – producers of Gentle Giant: The Andre Rodgers Story. Another, Ryan Lightbourn, director of the film, Sleepwalkers.

"There are so many others doing brilliant work. We encourage them all to continue their heroic efforts," Mr. Woods said.

The Bahamas International Film Festival, launched in 2004, is a non-profit organization dedicated to providing the local Bahamian community and international visitors with a diverse presentation of films from around the world. BIFF also provides a unique cultural experience and set of educational programmes and forums for exploring the past, present and future of cinema.

BIFF has attracted A-List celebrities such as Heather Graham, Johnny Depp, Alan Arkin, Sir Sean Connery, Nicholas Cage, Laurence Fishburne, Roger Corman, Daryl Hannah, Sophie Okonedo, Anna Faris, Naomie Harris, Zoe Kravitz and Sydney Tamiia Poitier.

The 2014 BIFF Shining Star Tribute was paid to American actress Debra Messing. She starred in the feature film: 'Like Sunday, Like Rain' along with Leighton Meester, Billie Joe Armstrong and Julian Shatkin. Frank Whaley, also the screenwriter, directed the film.

Debra Messing landed her first TV job in a recurring role on the drama NYPD Bluein 1994. Her career advanced steadily, with guest spots on shows such as Seinfeld and a series of film roles. In 1998, Messing landed the role that would make her a household name, on the hit sitcom Will & Grace.

The BIFF 2014 was also extended to Harbour Island.





© Copyright 2014 by thebahamasweekly.com -