From:TheBahamasWeekly.com


Bahamas Wedding Planner - Glenn Ferguson
Study Shows American Destination Wedding Brides Prefer Beach Weddings
By Glenn S. Ferguson
Mar 20, 2014 - 10:28:20 PM






Hi, I am Glenn Ferguson your Bahamas wedding planner and wedding officiant at Bahamas Destination Wedding. With another spotlight on Destination weddings in the Bahamas.

Today we sharing the results of a recent survey that shows that American Destination brides prefer beach weddings. That's really great news for the Bahamas.

Expedia's 2014 American Altar Report, a study conducted on behalf of Expedia the world leading full-service online travel site by Northstar, a globally integrated strategic insights consulting firm, among 1,000 adult Americans and completed between February 7 and February 12, 2014.

The report reveals that Eighty-four percent of Americans believe that destination weddings are more fun, and among those who have had a destination wedding, 76 percent believe they are far less stressful than traditional ceremonies.

Even more startling is the fact that amongst married Americans, Forty-two percent, if given the chance for an "I Do-Over," would choose a destination wedding. With that figure jumping to 63 percent among Americans under 35 years of age.

While 67 percent of married Americans say they are likely to renew their vows at some point during their marriage. An equal proportion of Americans (67 percent) report that if they were to ever renew their marriage vows, they would choose a destination ceremony.

But the really great news for the Bahamas is that an overwhelming 43 percent of Brides in the Expedia's American Altar Report indicated their preference for
wedding on the beach, making beaches the ideal location for a destination wedding.

And putting the Bahamas in an enviable position with not only 5,000 beaches across it 700 island chain. That's more than all the beaches of the other islands of the Caribbean combined. But beaches with the clearest water and best quality powdery sand in the world.

Making it almost impossible to not find a secluded beach for a romantic wedding ceremony. And there is nothing like a reception right in front of the ocean.

So if you have questions about planning a destination wedding on the beach in the Bahamas call me Glenn Ferguson, your Bahamas wedding planner at 1-(242)-327-2453 or email: glenn@bahamasdestinationwedding.org. and we will get you the help that you need to plan an amazing
beach wedding in the Bahamas.

Looking forward to talking to you soon about Destination weddings in the Bahamas.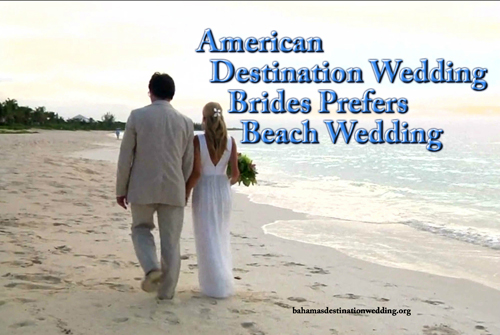 © Copyright 2014 by thebahamasweekly.com -