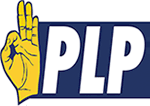 From The Office of The National Chairman Of the Progressive Liberal Party


on The Status Of Bradley B. Roberts Chairman Emeritus Designate:




I spoke this morning with Bradley Roberts our former Chairman. He is recovering from surgery which took place successfully on 28 April. He indicates that he is on the mend and asks for our prayers and support. He is in his usual fine spirits, keeping up to date with political and public policy developments at home. He asks us to stay the course.




I assured him that the party wishes him well and that we are praying for his full recovery.