From:TheBahamasWeekly.com


SkyBahamas
SkyBahamas matches Gulfstream flight
By Jeffrey Todd, Nassau Guardian
Oct 26, 2011 - 12:15:23 PM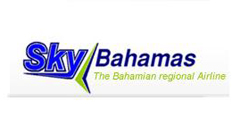 Nassau Guardian - Competition between Gulfstream International and SkyBahamas is heating up for the busy winter season, Guardian Business can reveal, with plans by the Bahamian airline to match the U.S. carrier's new direct flight from West Palm Beach to Freeport.
"We just got the West Palm Beach [route] literately this week to put it together for November," said Randy Butler, the CEO of SkyBahamas.
"We're not going to let the competition get ahead of us."
The SkyBahamas chief's comments follow an official announcement by Gulfstream last Friday that a new daily service from West Palm Beach to Freeport will commence November 8. It was the second such announcement for the airline in as many days, with daily service also beginning from Orlando to Marsh Harbour from November 10.
The West Palm Beach route is expected to cost just $230 round trip, while the Orlando flight comes in at $381, plus government taxes and fees.
Darrell Richardson, the CEO of Gulfstream, told Guardian Business that the moves are part of a steady resurgence for the airline, which has undergone restructuring since filing for bankruptcy in 2010.
"This is the start of a new program for The Bahamas," he explained.
"We're looking at increasing service to The Bahamas this year - these are markets we believe will do well and people have asked for them. We have the capacity and that's what we're going to do."
In terms of that capacity, the airline expects the first of its new Saab 340 aircrafts to arrive in the first quarter of next year.
Until then, it will be servicing these routes with the more basic 19-seat planes.
As Skybahamas prepares to roll out its rival route from West Palm Beach, Butler expressed frustration at the lack of government support for local airlines, saying "every time we turn around the government supports the competition".
Butler's statement is consistent with other criticisms he made earlier this month, when he told Guardian Business the government needs to start supporting its local carriers instead of "funding the foreign airlines and not supporting us".
In this case, he pointed to Vision Airlines and its opening of service with direct flights from a number of U.S. cities, including Louisville, Baltimore and Raleigh for just $99.
The senior executive pointed to the recent partnership between the Ministry of Tourism and the U.S. airline as making these low prices possible.
Peter Turnquest, the Chairman of the Chamber of Commerce in Grand Bahama, confirmed the partnership also included the Grand Lucayan Bahamas Beach & Golf Resort.
In regards to Gulfstream, Butler felt it was a similar arrangement whereby the government in The Bahamas was supporting the foreign carrier rather than allowing local carriers greater rights and access.
Until the new Saab planes arrive, he stressed that Skybahamas was larger and better equipped with 33-seater planes. Butler also said the prices for their West Palm Beach route will be competitive with Gulfstream.
"We're going with a bigger airline, it'll be cheaper and more efficient," he said.
"If we're allowed to compete fairly, we'll do well."


© Copyright 2011 by thebahamasweekly.com -