From:TheBahamasWeekly.com


SkyBahamas
Sky Bahamas Shows Humanitarian Corporate Spirit
By Serena Williams
Oct 4, 2012 - 4:06:54 PM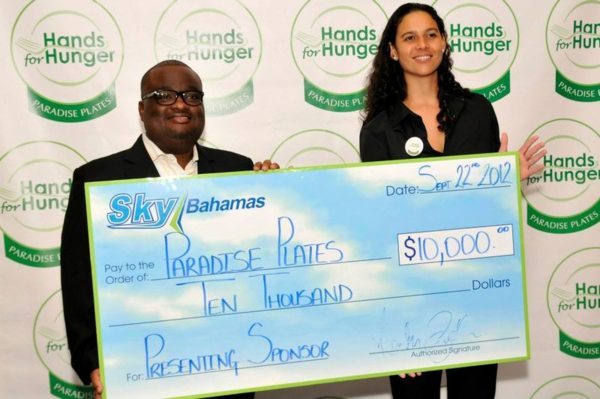 Randy Butler of Sky Bahamas with founder of Hands for Hunger, Alanna Rodgers


NASSAU, Bahamas - A humanitarian, people caring approach to business is written into the Sky Bahamas Mission Statement and CEO, aviation Captain Randy Butler, recently demonstrated this commitment by financially partnering with the Hands for Hunger programme in the Paradise Plates fund raiser.

"We are guided by the principle that success in business is dependent on putting humanitarian issues to the forefront of our thinking," said the Captain Butler. "And we see the tremendous job that Hands for Hunger is doing on a daily basis year in and year out and want to support that kind of meaningful programme. Our mindset is all about people first, providing good service and respect for our customers on our national airline Sky Bahamas, and supporting existing community-help programmes primarily in education, health and literacy," said the CEO.

Executive Chef Simeon Hall photographed here with Randy Butler of Sky Bahamas is the Chef and Deli Manager at Solomon's Fresh Market out West and here he is, one of the many culinary & beverage vendors showcasing their wares at the recent Paradise Plates, Hands for Hunger fund raiser.


Talking of his expanding business Captain Butler said the future for Sky Bahamas is bright. "We are on a roll and enjoying our business, we love what we do. We have the best people and I am very optimistic about our plans for the future."

Paradise Plates, Hands for Hunger's annual fundraising event was held recently at the Atlantis Crown Ballroom and attracted a record attendee turnout. The popular fund raiser gave guests the opportunity to see some of the island's top restaurant chefs in action, sample a wide variety of local and international foods and wines, and browse a silent auction while enjoying entertainment that included a Junkanoo finale. All proceeds went to Hands For Hunger's ongoing mission to eliminate unnecessary hunger and food waste.



© Copyright 2012 by thebahamasweekly.com -