From:TheBahamasWeekly.com


BASRA
(Photos) BASRA Supported during Halloween at Red Beard's Pub
By The Bahamas Weekly News Team
Nov 10, 2011 - 9:01:12 PM






Freeport, Bahamas - On October 28th Red Beard's Pub hosted the

second annual

BASRA Halloween Bash Costume Party to support the vital non-profit group that protects us in the surrounding waters off Grand Bahama. Entrance fees went entirely to the Bahama Air Sea Rescue Association (Grand Bahama Unit). Ghouls to princesses, angels to aliens, they they were all out to support the cause and have fun on a night when anything goes! The signature costume, the "pirate" was most prevalent.

"BASRA Grand Bahama is pleased to once again be the recipient of Red Beard's Pub Charity Halloween Party, said Justin Snisky of BASRA. "It is because of people like Brian Bothom and his wife at Red Beard's that BASRA is able to stay afloat in this harsh economy. Their donation will be go towards our search and rescue efforts, and will help add to our training devices. This is essential in allowing us to continue to serve the Northern Bahamas in maritime rescues. For that and to all those that came out to support, we are truly thankful."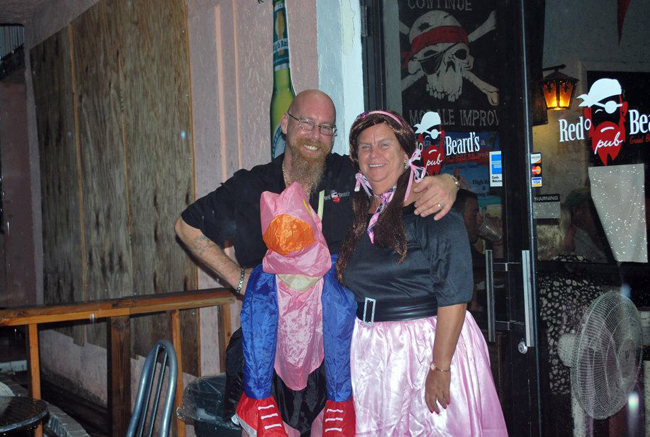 © Copyright 2011 by thebahamasweekly.com -