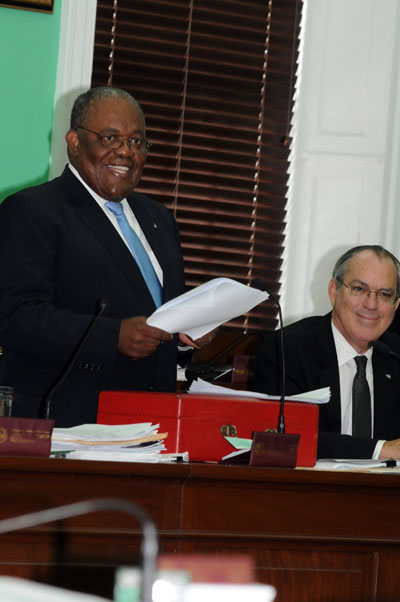 Commonwealth Of The Bahamas
2011/12
Budget Communication
Presented To The Honourable House Of Assembly
By
The Rt. Hon. Hubert A. Ingraham, M.P.
Minister of Finance
On
Wednesday, 25th May, 2011
2011/12 Budget Communication
It is my honour to present the 2011/12 Budget Communication.
Setting The Context For The Budget
Budget-making is one of the most significant responsibilities of a national Government. Through the annual Budget the Government sets out its vision in respect of the economic and social priorities that it will pursue. In that regard, the preparation of the annual Budget requires, in the face of limited and precious public financial resources, the making of difficult decisions, choices and trade-offs that are attuned to the economic and social needs of the country. Through the Budget, the Government translates its vision of the future into concrete policies and initiatives that will bring about the societal objectives and outcomes that are of paramount importance to citizens. Successful budget-making is the hallmark of effective Government. It is not a task for indecision, complacency or procrastination.
My Government has, over the course of its three terms in Office, been consistent in its pursuit of effective Budgets that meet the needs of Bahamian society. Three years ago, as the first waves of what was to become the Great Global Recession began reaching our shores, we decisively chose to begin using some of the fiscal headroom established through prudent economic and fiscal policies. We stated explicitly that we would allow the Government Debt to GDP ratio to move upwards from the range of 30% to 35% that had judiciously and prudently been achieved. This permitted us to implement measures to provide relief and assistance to Bahamians, as well as significantly increase capital expenditure from the
previous year to support employment and further bolster our commitment to modernizing and expanding our public infrastructure. We implemented key legislation to stimulate and
support the revitalization of the city of Nassau and embarked on an ambitious and massive infrastructural work programme that will give New Providence the infrastructure of a modern, progressive city and make it hugely attractive and more environmentally
sustainable. We will also ensure that it is a truly world-class destination. And we have introduced a legislative framework to encourage investment in our least developed islands.
In the subsequent period, a combined worldwide economic and financial meltdown emerged on a scale unprecedented since the 1930s. As a small open economy, we experienced a severe
downturn in our economy with reduced tourism, foreign direct investment, government revenues, employment and living standards. In the circumstances, in the 2009/10 Budget
Communication the Government chose a balanced medium-term strategy designed to:
maintain employment and living standards to the extent possible;

continue our infrastructure investment thrust which also supports employment; and

target a restoration of the fiscal headroom as and when conditions permit.
Key policy initiatives were the introduction of unemployment and prescription drug benefits, commencement of the rationalization and streamlining of business licence processes and the launching of a National Training and Retraining Programme for recently laid-off workers.
Last year, with the early signs of global economic recovery beginning to emerge, we made a commitment to a renewed focus on redressing public finances, containing the debt-to-GDP
ratio immediately and getting that ratio to more prudent and desirable levels over the medium term. The state of public finances and the burden of government debt are of fundamental importance to the attainment of stronger and sustainable economic growth and
higher standards of living through buoyant investment and lower borrowing costs.
The 2010/11 Budget contained the most significant structural fiscal action of any Budget in recent years as a means of immediately containing the debt-to-GDP ratio. Central to the
overriding Budget theme was a call for sacrifice, service and reform. To that end, among other measures, we froze Recurrent Expenditure at its prior-year level, a reduction of almost 2 per cent in real terms and cut allocations to Ministries, Departments and
Agencies by 2.6 per cent. Public service employment and promotions were for the most part frozen, increments were in most cases suspended and the responsibility allowances of senior public officials were halved. The salaries and duty allowances of the Prime Minister, Ministers and Parliamentarians were also significantly reduced.
A recurring theme across every Budget has been a steadfast commitment to fiscal prudence, modernizing and improving public services, strengthening transparency and governance, streamlining the domestic business environment and enhancing the efficiency and effectiveness of revenue administration and collection. We have pursued those core
objectives through a variety of policies and initiatives.
I have chosen to take a few moments at the beginning of this year's Budget Communication to underline the point that I made at the outset. Budgets are about choices and responsibility. As I trust I have clearly shown, my Government has in the annual Budget
exercises effectively fulfilled its responsibilities to make the difficult policy decisions and choices required in the face of an ever-evolving environment. We do so again in the 2011/12 Budget Communication.
A National Job Promotion Strategy
It is clear that, despite the ongoing and strengthening indications that economic recovery is underway, the prospects for a robust and much-desired rebound in employment remain muted in the near term. This is a typical cyclical economic development that we see not only at home but also in the major economies around the globe. New full-time jobs tend to be created once the recovery in economic activity is on a sound and self-sustaining footing.
The Government is therefore of the view that, in this environment, a core priority for this year's National Budget must be action to enhance the skills and job readiness of unemployed
persons and encourage, in the short term, job creation by the private sector...



Click below to download full 2011/2012 Budget Communication by Prime Minister Hubert Ingraham‏