From:TheBahamasWeekly.com


Bahamas Information Services Updates
Bahamas to host Major Caribbean State of Tourism Conference
By Matt Maura
Sep 10, 2018 - 4:20:16 PM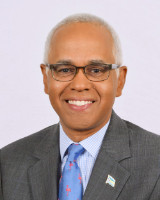 NASSAU, The Bahamas – Tourism Ministers, industry officials and public/private sector stakeholders from throughout the Caribbean will gather in New Providence October 1-5 (2018) for the Caribbean Tourism Organization's (CTO) State of the Tourism Industry Conference (SOTIC), scheduled for Atlantis, Paradise Island.

Business meetings will take place October 1-2 with the Conference scheduled to be held October 3-5. The CTO is the region's tourism development agency with 28 member countries and territories and a myriad of private sector allied members. Its vision is to position the Caribbean as the most desirable year-round, warm-weather destination globally.

Minister of Tourism and Aviation, the Hon. Dionisio D'Aguilar, said hosting the conference is a worthwhile, important and invaluable investment for The Bahamas.

"The media coverage will be priceless (an estimated 30 regional and international media will be in town to provide coverage of the event), the lessons we learn will be priceless; the business it brings, will be welcomed," Minister D'Aguilar added.

Minister D'Aguilar, said the SOTIC affords regional hospitality and tourism professionals the opportunity to not only assess the region's tourism "situation," but to also share new trends and best practices that can help devise new ways to improve the industry, while making it more sustainable and inclusive.

Mr. D'Aguilar said the conference also provides industry officials with the opportunity to "explore concepts and models to expand beyond traditional tourism boundaries into entirely new frontiers."

"SOTIC is all about winning strategies, no matter how tourism touches you. Not only is SOTIC the preeminent educational forum for Caribbean hospitality and tourism professionals, it is far and away the most important event on the Caribbean's tourism calendar.

"This event is where we assess our situation, share the trends and best practices, learn from the experiences of others, and use all of this information to devise ways to improve the industry, make it more sustainable and inclusive.

"This is the event that brings together more tourism ministers, directors, executives, strategic partners, tourism business executives and everyone involved directly or indirectly in tourism for business opportunities."

Minister D'Aguilar said "there is something to be gained" for Bahamians who attend "this extraordinary conference."

"This is an invitation for all of The Bahamas to attend this extraordinary conference. Students, bankers, taxi drivers, hotel executives, hotel workers, entrepreneurs, teachers, shopkeepers, vendors – whatever you do, there is something for you to gain from attending SOTIC." Persons interested in attending can register online by visiting sotic.onecaribbean.org.

Caribbean Tourism officials said, the SOTIC has evolved into what is the most important tourism conference in the Caribbean.

"It brings out a tremendous amount of networking and opportunities," said Mr. Johnson JohnRose, Communications Specialist, Caribbean Tourism Organization. "It brings people together to help better understand the destination, to help promote the destination as much as possible and of course, people attending the conference would have patronized the destination. So SOTIC is this whole encompassing event for Caribbean Tourism from which people come out with tremendous ideas."

Mr. JohnRose said one of the critical areas to be addressed during the 2018 SOTIC is the use of technology and its impacts on tourism.

"How do you use the technology to improve the customer experience? That is critical because we are coming out of a period where we have had the massive storms. The conference's theme wasn't selected by accident. It is coming out of last year, but looking forward to the future. What did we learn from last year and how to improve on everything – from the structural product, the experience and all of that and how best to do it. This is what we expect from the conference."

Each day of the three days of conference will focus on a particular area of the theme: Day One (Rejuvenate); Day Two (Recreate); and Day Three (Reconnect).



© Copyright 2018 by thebahamasweekly.com -