Last Updated:

Mar 13, 2019 - 6:53:12 PM
---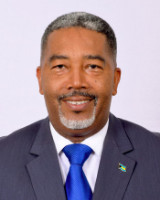 UNITED NATIONS, NEW YORK – The Caribbean Community (CARICOM) remains concerned by the adverse effects of gender-based violence as well as the negative impacts it poses to the achievement of the empowerment of women and girls.

"Such a harrowing situation must be urgently addressed," the CARICOM Statement, read.

Delivered by Bahamian Minister of Social Services and Urban Development, the Hon. Frankie A. Campbell on Tuesday (March 12) during Day Two of the Sixty-Third Session of the Commission on the Status of Women (CSW), the Statement said CARICOM has been engaging in measures to reduce and prevent violence against women in the Caribbean, inclusive of data collection, in order to better understand and address the underlying causes of these issues.

The Statement addressed a number of broad-ranging matters ranging from gender-based violence, to literacy and education, healthcare, including the negative impacts of non-communicable diseases, unemployment and underemployment, building resilience in the face of natural disasters such as hurricanes and social protection systems.

(Social protection systems, access to public services, and sustainable infrastructure for gender equality and the empowerment of women and girls is a priority theme of CSW63.)

"Enhancing existing social protection systems will assist us in reducing poverty, promoting income security, inequalities and vulnerabilities, and building human capacity. We believe that providing women with equal access to quality education, healthcare, decent work and representation in political and economic decision-making processes as well as protecting their rights in this regard, will fuel growth and development and ensure that no one is left behind.

"It should be noted that social protection is a shared responsibility and is a core function for development, which is entrenched in the 2030 Sustainable Development Agenda. CARICOM remains fully committed to working with the rest of the international community, to build resilience for mutual growth and development.

The Statement continued: "In recent years, CARICOM has engaged on the establishment of a regional tripartite social dialogue mechanism and Regional Social Protection Floor. This tripartite mechanism involves a partnership among the government, private sector, labour and civil society. We view this mechanism as an important step in affording better standards of living for our people through greater access to health and education services.

"Recognizing the importance of literacy and education towards the advancement and economic empowerment of women and girls, the provision of education remains a strong focus in all the CARICOM countries. Education is a powerful driver to effect change and a key input in human development. Through education, women and girls are better equipped to confront the socio-economic challenges.

"It is for this reason that we welcome the attention given to address access to public services as a mechanism to empower women and girls. Over the years, we have witnessed progress in women's and girl's access to public services, including in education and health. In many countries, including those of our region, women and girls often have higher rates of attendance at educational institutions at different levels compared to men and boys."

The Statement further read: "The health of our women remains a great concern. CARICOM has seen an increasing ageing population and high prevalence rates of non-communicable diseases among other health challenges, which can increase social protection needs and burden on public service systems. As a result, it is imperative that our health sectors be equipped to correspond to these realities, including in the context of food and nutrition security. In the context of our current theme, the CARICOM Council on Human and Social Development has prioritized the region's pursuit of healthcare coverage and therefore looks forward to the upcoming High-level Meeting on Universal Health Coverage.

"Our Member States' capacity to provide adequate social protection systems, access to public services and sustainable infrastructure can be further supported by enhanced international cooperation and partnerships and overseas development assistance to promote and ensure gender equality and the empowerment of women and girls in our region.

"It is our hope that the outcomes of our engagement during this sixty-third session will contribute substantially towards the realization of the Sustainable Development Goals. We will spare no effort to promote the empowerment of women and girls as beacons of courage, hope and change.








© Copyright 2019 by thebahamasweekly.com

Top of Page