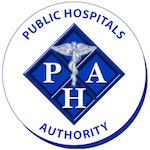 Laboratory and Radiology services temporarily suspended today at the Michaela Virgill Storr Pavilion of the Rand Memorial Hospital following a minor chemical spill in the Laboratory this morning. No injuries were reported, however cautionary measures were taken for employees affected to be seen by doctors on staff. At no time did the incident impact patients admitted on the hospital's wards, as teams worked quickly to contain the spill.




Emergency cases were seen in the Accident/Emergency & Urgent Care Centre, however General Practice cases were referred to the Freeport Community Clinic in the I.A.T. Building, East Atlantic Drive until the all clear is given.




Environmental Chemistry experts, an independent Hazmat company, a private chemist and the Department of Environmental Health Services were called in to mitigate the effects and clean the affected area.
The Rand Memorial Hospital will continue to monitor the incident to ensure the sustained safety and health of our patients and staff. All services are anticipated to be fully restored at the earliest.