Last Updated:

Jul 11, 2018 - 8:37:17 PM
---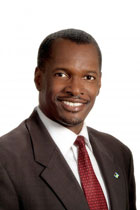 Communication by The Hon. Thomas Desmond Bannister Member Of Parliament (Carmichael) & Minister Of Public Works:




2018 Ministerial Forum on Urban Regeneration and Development in Shanghai, China

11th July, 2018

Mr. Speaker, last month I was honoured to be afforded the opportunity to attend the 2018 Ministerial Forum on Urban Regeneration and Development in Shanghai, China as the guest of the Government of the People's Republic of China.

The Forum was held from 19th to 25th June with twenty eight participants from Albania, Belarus, Laos, Liberia, Mauritious, Palestine, South Sudan, and the Commonwealth of the Bahamas. It was hosted by the Shanghai Business School, and provided us with a forum to share perspectives on development planning in our respective countries.

I thank the organizers for affording me the distinct privilege and honour to be one of the featured speakers at both the opening and closing ceremonies. I was also a guest speaker at a forum workshop which was hosted by the Shanghai Jingwei Architect Planning and Design Institute, where I addressed the topic of the Challenges Of Urban Development In Small Island Developing States, with a focus on the Bahamas. During the course of my presentation, I sought to enlighten listeners to our unique geographic and planning challenges, resulting in the stringency of our building code; building height restrictions; and our resolve to continue to evolve our focus on development, which is uniquely different from the current focus of other world cities and centres. The feedback was particularly encouraging, and I anticipate that there will be further efforts to share valuable information among forum participants.

Mr. Speaker, the Forum provided an opportunity to be introduced to an interesting perspective on development in China. Shanghai is a thriving municipality of twenty four million residents. It has successfully transformed itself to a world class international city that is renowned for its international economic, finance, trade and technological innovation.

Most impressive was the city's emphasis on planning for development. Notwithstanding the fact that it already had a Master Plan for development, in 2015 Shanghai pulled all stakeholders together and refocused on the planning process. This has resulted in the recently completed Shanghai 2035 Master Plan, which focuses

on development for the next 18 years.

The plan was developed over a period of two years with consistent community dialogue. Residents were comprehensively engaged in the process of planning the city that they want to live in. Critical issues for residents to resolve related to questions such as:

*what do they want their neighborhood to look like;
*what services and amenities are most critical, and how close and convenient should they be;
*what are the desired means of transportation; and *how do you protect the environment In other words, Sir, they developed the people's plan.

Mr. Speaker, a critical aspect of the Shanghai Master plan focuses on critical issues that we too here in the Bahamas must engage in discussing. One of these is the issue of branding. In other words, Sir, what is the image of the Bahamas that we wish to convey to the world, and what is the image of each island that we wish to cultivate with respect to business, technology, culture and finance. All over the world cities are grappling with the issue of creating unique brands that distinguish them from every other destination.

Many traditional brands are being rethought with a focus on the future, and the Bahamas must rapidly do likewise because sun, sand and sea is no longer seen to be unique to us. The redevelopment of our downtown and the very survival of our communities throughout the country may well depend on how we brand ourselves.

A second issue that emerges from the Shanghai Master Plan is the extent to which we wish to encourage a culture of entrepreneurship rather than reliance on traditional employment. In Shanghai they are creating entrepreneurial hubs. They have redeveloped and continue to redevelop old and abandoned sites into centres of

entrepreneurship. Young people with innovative ideas are able to relocate to these centres at concessionary rates as they develop their revolutionary ideas. What they seek to do is create mini Silicon Valleys at strategic locations throughout their city to provide budding entrepreneurs with the opportunity to come up with that next great idea without the pressures, risk and exhorbitant expenses that are often attendant on innovation and business development.

Mr. Speaker, the Shanghai Master Plan comprehensively focuses on promoting urban and rural integration, and also formulates spatial development strategies related to providing critical services in local communities and the preservation and protection of the environment. These are matters that require our urgent attention in the Bahamas also, as New Providence continues to sprawl without consistent planning. We need to plan now, Sir, for population growth, the development of roads, schools, clinics and other community services rather than our current seemingly random and haphazard approach to national development.

Mr. Speaker, Shanghai is a coastal city. It is faced with challenges of rising water levels that the Bahamas will face from climate change. I was, therefore, quite impressed with the focus of the plan on remediating flooding, since we are challenged in New Providence and other islands such as Exuma with flooding at high tides and during heavy rains. I was also quite interested in their focus on costal protection through the unique concept of creating a "sponge city". This is a plan that we shall follow closely so as to monitor its successes, and where possible, to duplicate in the Bahamas.

Mr. Speaker, locally, the Prime Minister's innovative, timely and much needed focus on the re generation of our traditional over the hill communities is a wonderful launching pad for a national focus on planned development and regeneration. We have much work to

do, and the active participation of all of our people will be required for optimum levels of satisfaction.

Mr. Speaker, I close by thanking the government of the People's Republic of China for providing this unique opportunity for insight into the development of one of their world cities as well as offering a forum to cultivate and share ideas for our own development with knowledgeable representatives from other countries. I shall seek to share the ideas discussed and developments viewed as widely as possible so that we may consider their suitability or otherwise in our local Bahamian context.

Thank you Sir.








© Copyright 2018 by thebahamasweekly.com

Top of Page