From:TheBahamasWeekly.com


Bahamas Information Services Updates
Grand Bahama Still Abuzz About Bahamas Junkanoo Carnival
By Simon Lewis, BIS
Apr 23, 2015 - 2:13:16 PM




CULTURAL VILLAGE – Prime Minister the Right Honourable Perry Gladstone Christie is pictured here with Tourism Minister the Honourable Obie Wilchcombe, Ms. Tatum Anthony and Junior Tourism Minister Ms. Latess Bartlett as he toured the Cultural Village at Taino Beach, site of the Bahamas Junkanoo Carnival this past weekend in Freeport, Grand Bahama. (BIS Photo/Vandyke Hepburn)


FREEPORT, Grand Bahama – Two days following the closure of the opening segment of Bahamas Junkanoo Carnival 2015, residents on Grand Bahama and in fact many visitors to the island were talking about the success of the event.

Thousands of residents and visitors flocked to Taino Beach for the two-day festivity this past Friday and Saturday as the island of Grand Bahama was buzzing with the sounds of Bahamian music, dance, food and other things that make up the Bahamian culture including the pulsating sounds of Junkanoo.

Prime Minister the Rt. Hon. Perry Gladstone Christie, who at age 71 still regards himself as one of the best dancers ever of Junkanoo music was in Grand Bahama Friday evening to officially open the event and was very pleased with the overall support and crowd turnout for the Carnival.

Taino Beach was totally decorated and turned into a cultural village for the event, which was sponsored in part by BTC. The music, the food, drinks, dress, reflected a people proud to be Bahamian and to identify with the Bahamian culture.

The list of entertainers included Jay Mitchell, Stileet, Wilfred Solomon, Lil Joe Cartwright, Avvy, D-Mac, the "T" Connection and more.

There were also performances by the popular Tingum Dem Band, headed by Fred Ferguson and the Matrixx Band.

A high point of the opening on Friday evening was a tribute to the late Johnny Kemp, Jr. who passed away last week in Jamaica. All the entertainers were called to stage to join in the singing of Kemp's great hit "Just Got Paid – Friday Night."

The Grand Bahama event officially kicked off Bahamas Junkanoo Carnival with the mega activities being planned for the capital city of Nassau May 7th – 9th 2015.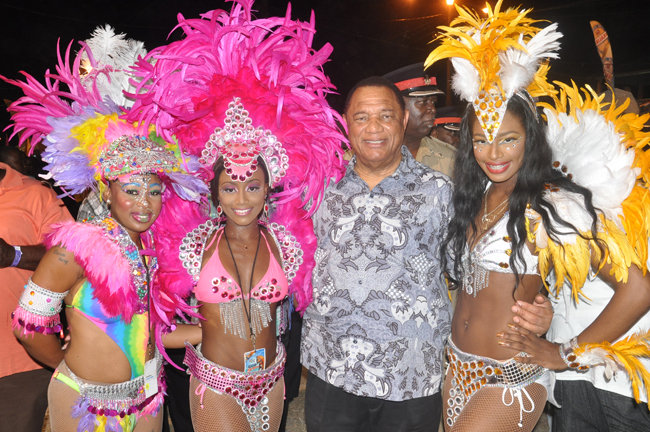 BAHAMAS JUNKANOO CARNIVAL – Bahamas Junkanoo Carnival 2015 officially kicked off in Grand Bahama this past Friday and Saturday with thousands of Bahamians and visitors gathering at the Taino Beach, site of the Cultural Village. Here Prime Minister Perry Gladstone Christie appears to be in prime Junkanoo Carnival form. (BIS Photo/Vandyke Hepburn)


Prime Minister Christie, while officially opening the Junkanoo Carnival, told the huge audience that "I know you want to hear music so I just want to say three things.

"The first thing, I want to remember Gus Cooper. Gus Cooper was the leader of the Valley Boys and he came to me a couple a years ago and he said Christie we have to do this. He was joined by (Percy) 'Vola' Francis.

"The second point, I want to congratulate and thank the Carnival Commission under Paul Major: they have done a hell of a job. I am very proud of them.

"The third and final point that I want to make is that you have come out here to have fun, and in Grand Bahama you have demonstrated yet again that you are prepared to come out when it is time to come out and show that Grand Bahama is ready to support Junkanno Carnival. Let the music play," an enthusiastic Prime Minister Christie said.

The Prime Minister was also joined on stage by Minister of Tourism and MP for West End and Bimini the Hon. Obie Wilchcombe; Minister for Grand Bahama the Hon. Dr. Michael Darville and the Minister for Youth, Sports and Culture, the Hon. Dr. Daniel Johnson.

Minister for Grand Bahama, Dr. Michael Darville said that he was pleased that the island was selected as the kick-off point for the Bahamas Junkanoo Festival and he thanked all of the workers and sponsors, especially BTC who contributed to the success of the event.

Youth, Sports and Culture Minister the Hon. Dr. Daniel Johnson said "we have to congratulate Grand Bahama. There are thousands and thousands of people out here tonight. The artists are here, the young people are here. This is Bahamian culture at its best."

Tourism Minister the Hon. Obie Wilchcombe told the large audience assembled and those listening in to the live broadcast event that it was a celebration of who we are and what we are as Bahamians.

He also acknowledged the passing of Johnny Kemp, a one time native of Grand Bahama who he knew personally for many years and, in fact, grew up with.

Also, he recognized the late recording artist Mr. Cy Roberts, who passed away last week.

Mr. Wilchcombe said it is because of men and women like them that "we are having this event. Because we are celebrating all that we are, where we came from and where we want to go.

"And, we are sharing it with the world community because when you travel people talk about our country. They talk about what makes us so great and all Bahamians must know that when we say 'It's Better in The Bahamas,' we mean it is better in every single thing we do," he said.

The Grand Bahama event was pulled off without incident in a peaceful but enjoyable manner.

The island received an economic lift with high occupancy at the hotels and guests houses, and an economic boon to businesses associated with tourism like car rentals and other areas.

Indeed the Junkanoo Carnival left Grand Bahamians and visitors alike wanting more, and can't wait for 2016 when the event is expected to be bigger and better.



© Copyright 2015 by thebahamasweekly.com -