Last Updated:

Jul 12, 2018 - 11:50:42 AM
---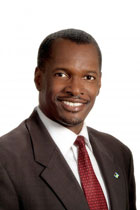 On the evening of June 25, 2018 severe inclement weather impacted the western district of New Providence. During this weather event, one major transmission line, the Skyline 132,000 volt overhead line was struck by lightning and tripped resulting in outages in western and southern New Providence. As the system began to recover from this event, a flashover occurred in the 33,000-volt cable box of a primary transformer at the Clifton Pier Plant.

Given the location of the transformer it would be imperative that a fault of this nature be immediately (automatically) isolated from the system to avoid a shutdown. For this reason the transformer is controlled by a 33,000-volt circuit breaker. Despite the circuit protection recognizing the fault (relays called for a trip), the circuit breaker did not open to isolate the problem, resulting in the protection on the online generation at Clifton Pier (DA10 and 12) tripping those units offline to safeguard them.

The equipment at the substation is extremely old, and should have been replaced years ago. Accordingly BPL is not able to find parts for the equipment, and therefore additional back up protection such as Circuit Breaker Failure Protection, was not available to provide further isolation of the fault. As a result, the problem remained connected to the network triggering the shutdown of all remaining online generation at the Blue Hills Plant and the subsequent island wide outage.

Transmission and Generation team members immediately commenced the restoration process to put the system back to normal. The faulted transformer was manually isolated from the network, and the system prepared for the first generator to be connected. The first unit (Generator No 1 at Blue Hills) was put online at 7:15pm. This energized the first set of customers near Big Pond. Remaining customers were restored as generators were placed online until most customers were eventually restored at 10:45pm with the exception of those areas of the island that were connected to the faulted transformer. Teams then began to reconfigure the network to restore supplies to the remaining customers. All customers were back online before 1:00 am on June 26, 2018.

The transformer cable box will have to be replaced. Substation Maintenance Teams at Clifton Pier and in Field Operations have commenced this effort. It was the company's intent to replace the switchgear at the Clifton Pier 33 kV Substation B. The needed funding (~USD$1.2M) for this work has been included in the upcoming year's capital budget. In the interim however, Field Operations Teams (Plant and Protection) will assist Clifton Pier in reviewing the functioning of the existing equipment to ensure proper response to fault conditions.






© Copyright 2018 by thebahamasweekly.com

Top of Page