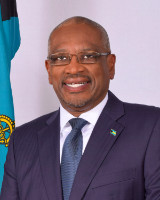 REMARKS
The Most Hon. Dr. Hubert Minnis
Prime Minister and Minister of Finance

Ministry of Financial Services, Trade & Industry and Immigration
Alternative Dispute Resolution Forum Alternative Dispute Resolution and The Bahamas: Charting a New Course

Thursday, 21 January 2021

Ladies and Gentlemen:

Good morning.

It is my pleasure to bring opening remarks for today's virtual symposium hosted by the Ministry of Financial Services, Trade & Industry and Immigration under the theme, "Alternative Dispute Resolution and The Bahamas: Charting a New Course".

The Bahamas has worked assiduously toward becoming a centre for international
commercial arbitration for the last two decades.

This is evidenced by the fact that The Bahamas has been a Member State of the International Centre for Settlement of Investment Disputes since 1995.

We enacted The Arbitration Act 2009 and The Arbitration (Foreign Arbitral Awards) 2009, which modernized the near century old arbitration legislation and incorporated
the United Nations Convention on the Recognition and Enforcement of Foreign Arbitral Awards, also known as the New York Convention.

The Bahamas became a Member State of the Permanent Court of Arbitration in June 2016.

We also introduced the International Commercial Arbitration Bill 2018, which would incorporate the UNCITRAL Model Law on International Commercial Arbitration and established The Bahamas as an UNCITRAL Model Law jurisdiction.
In addition to these measures, we are aware that The Bahamas has more work to do in order to position us as a leading centre for international commercial arbitration in the Americas.

In this regard, in October 2015, Professor Jan Paulsson, then a consultant on
international commercial arbitration to the Government of The Bahamas, advised the Cabinet that The Bahamas needed to develop its own model ...TO CONTINUE SEE ATTACHED