From:TheBahamasWeekly.com


Bahamas Information Services Updates
Prime Minister Christie on Fox Hill Incident and Crime in The Bahamas
Dec 30, 2013 - 10:13:57 PM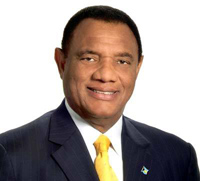 Nassau, Bahamas - The following is a press statement by the Prime Minister, the Rt. Hon. Perry G. Christie:

Along with my colleagues in the government, I am very deeply distressed by the horrific events in Fox Hill on Friday past and and the recent incidents of violent crime in New Providence generally. We must all join in a collective effort to beat back and bury this terrible scourge upon our land once and for all. My government is already taking the lead in this regard and after consultations with the Commissioner of Police, will be meeting in Cabinet tomorrow to strengthen and escalate the war on crime so that peace and a sense of security can be restored to our streets, our communities, and homes in the shortest possible time. Nothing is more fundamental than this. The Bahamian people should feel assured, therefore, that my colleagues and I are absolutely resolute in our collective determination to bring crime firmly under control.
I had originally intended to use our Cabinet meeting tomorrow to formalize the deal that we now have with Cable & Wireless. However, I have determined that nothing should distract us at this particular moment in time from the urgent need to escalate the war on crime. Accordingly, this crime-fighting imperative will be the singular focus of Cabinet tomorrow. As a result, Cable & Wireless has agreed that we should postpone the formalization of the new deal until January. After Cabinet has agreed the course of action against crime a further statement will be made outlining the specific measures that will be implemented to battle and defeat crime in our country.
In the meantime, I join with all my colleagues in extending our personal condolences, and the condolences of the Government and the nation, to the victims of Friday night's attack and to their families, and indeed to all those who have fallen victim to senseless violence in our country.

29th December, 2013



© Copyright 2013 by thebahamasweekly.com -