Last Updated:

Nov 8, 2018 - 7:23:08 PM
---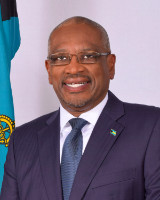 NASSAU, The Bahamas - Prime Minster Dr. the Most Hon. Hubert A. Minnis is making good on his promise to reduce the cost of electricity to those most vulnerable in the community.

In a statement delivered in the House of Assembly on Wednesday, November 7, 2018 the Prime Minister addressed the temporary spike in the fuel surcharge component of consumers' electricity bills.

In this vein, he advised The House of Assembly that the Government will be moving an amendment to the law to allow for a temporary increase in the VAT exempt ceiling from $200 a month up to $300 per month through the end of the fiscal year – that being June 2019.

This will be made effective for December 2018 and will show up in the January billing cycles, he said.

In the 2018/2019 National Budget, provisions made allowance that would exempt Bahamians whose monthly bills were under $200 from the payment of VAT.

"This was and remains a deliberate policy initiative to assist Bahamians of modest means," the Prime Minister said.

He advised that given the circumstances that have given rise to the temporary spike in the fuel surcharge component of consumers' electricity bills, the government is mindful of the impact that this increase has on all Bahamians – but especially on the poorest and most vulnerable.

"This situation is a legitimate issue for every Bahamian," the Prime Minister said.

This recent temporary spike in fuel surcharge has put a number of the qualifying customers over the $200 threshold. The trends in the cost of the delivery of electricity will inform any decision to extend the increased exemption ceiling into the new fiscal year beginning July 2019.

"Additionally, I have requested the Minister responsible for BPL and the BPL team to review and report back to Cabinet on the full range of options open to the government to address this temporary spike in electricity bills – even as we execute the longer term strategy to reduce energy costs in The Bahamas," the Prime Minister said.

He added, "I will remain resolute in the need for the country to substantially reduce its energy costs, and the undue burden it places on Bahamian citizens and on the cost of doing business in The Bahamas."

The Prime Minister also assured that more will be done to explore the reduction of energy cost, make a substantial transition to solar and other renewable energy supplies, and that plans will be revealed in the coming months.






© Copyright 2018 by thebahamasweekly.com

Top of Page