From:TheBahamasWeekly.com


Bahamas Information Services Updates
Prince Harry attends Service of Morning Prayer in The Bahamas
By Kathryn Campbell, BIS
Mar 4, 2012 - 1:39:46 PM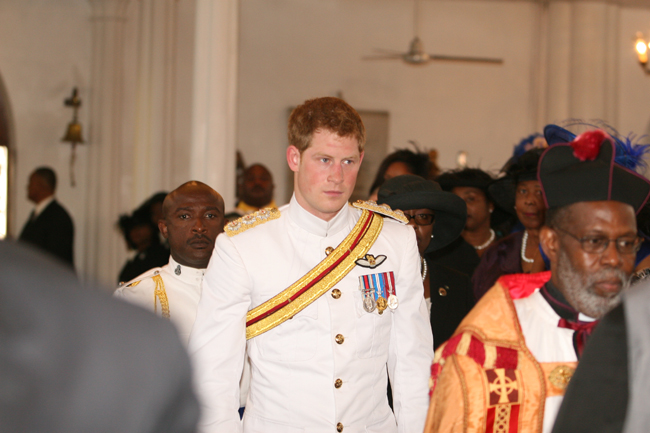 NASSAU, Bahamas -- The Dean of Christ Church Cathedral the Very Rev Patrick Adderley escorts Prince Harry to his seat for a Service of Morning Prayer, Sunday, March 4, 2012. The service is one of the activities in The Bahamas commemorating the Diamond Jubilee of his grandmother, Her Majesty Queen Elizabeth II. (BIS photo/Patrick Hanna)
Nassau, The Bahamas -- Bahamians joined Prince Harry at a Morning Prayer Service in honour of the Diamond Jubilee of Her Majesty Queen Elizabeth II at Christ Church Cathedral, Sunday March 4, 2012.

From March 2 through 11, Prince Harry is visiting cities in Belize, The Bahamas and Jamaica as part of his grandmother's celebrations.

Bishop of The Bahamas Rt. Rev. Laish Boyd Sr. led the service marked with songs, prayers and scripture readings. Also participating in the two-hour long service was Rev'd Patrick Adderley, Dean of the Cathedral; Rev'd Fr. Colin Humes, Priest Vicar of the Cathedral and Rev'd Dr. Ranford Patterson, President of The Bahamas Christian Council. The Highgrove Singers, the Bahamas National Children's Choir and members of the Royal Bahamas Police Force Band provided music for the service.

Governor-General His Excellency Sir Arthur Foulkes; Prime Minister the Rt. Hon. Hubert Ingraham; Cabinet Ministers; Members of Parliament and Members of the Judiciary; Members of the Diplomatic Corps were also in attendance.


NASSAU, Bahamas -- Prince Harry attends a Service of Morning Prayer at Christ Church Cathedral, Sunday, March 4, 2012. Prince Harry is in The Bahamas March 3 – 5 to commemorate the Diamond Jubilee of his grandmother, Her Majesty Queen Elizabeth II. (BIS photo/Patrick Hanna)


In his sermon, Bishop Boyd told the congregation he was "delighted" for them to be in The Bahamas. "It is a lovely spot," he said. "We have our challenges like any other country, however, it is still better in The Bahamas. God has blessed us tremendously."


Bishop Boyd acknowledged the Queen's 60 years of service to the world.


He said that she has been diligent and faithful in the execution of her duties, represents stability and continuity, and is also a link with the present and future.


Bishop Boyd urged the congregation to pray for leaders, as their work is so often taken for granted. He then reminded leaders of their call to serve and offered the Serenity Prayer to them as a form of encouragement.


Following the service Prince Harry attended a Queen's Jubilee Exhibition in Rawson and Parliament Squares, downtown Bay Street.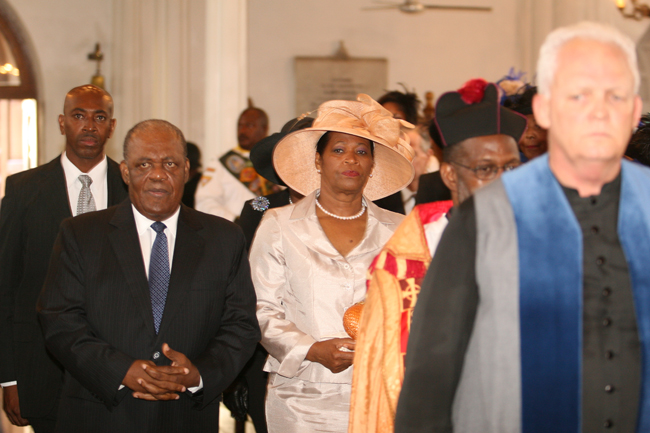 NASSAU, Bahamas -- Prime Minister the Rt Hon Hubert A Ingraham and his wife Delores Ingraham are escorted to their seats at the Service of Morning Prayer at Christ Church Cathedral, Sunday, March 4, 2012. The service is one of the activities here in The Bahamas commemorating the Diamond Jubilee of Her Majesty Queen Elizabeth II. (BIS photo/Patrick Hanna)
Related articles:
The Bahamas warmly welcomes Prince Harry

Prince Harry Receives the Royal Welcome to The Bahamas




© Copyright 2012 by thebahamasweekly.com -