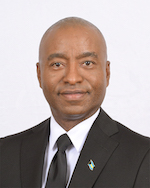 HON. DARREN A. HENFIELD, M.P.
MINISTER OF FOREIGN AFFAIRS
THE COMMONWEALTH OF THE BAHAMAS
10 March 2021

Introduction
Today, I rise on behalf of the indefatigable people of North Abaco, who have been fighting for a long time now, to recover all that Hurricane Dorian and now, Covid, has stolen from us—in no strength of my own but through Christ Jesus who sustains me.
North Abaco—Mr. Speaker—fully supports this Resolution to approve the Mid-Term Fiscal Strategy Report.
But please permit me to begin by extending heartfelt condolences on behalf of myself, my family and the people of Abaco, to the families of Kevin Murray (wife Penny), Calvon Edgecombe (Willamae and Calvin parents) and Ferron Lightbourne (John father) and their families on the recent loss of their loved ones.
Mr. Speaker,
I read somewhere that "A true friend won't let you face tough times alone."
And so, to my friend, the Honourable Picewell 'Soca' Forbes, I say publically as I have said privately, I will always be here for you. I wish the best possible future to you my friend, brother and fellow Island Boy. You have done your best with the hand that you were dealt. You did well my brother, keep your head up.
Mr. Speaker,

Outside of my colleagues and those closely connected to me, not many people know that I was—like many others who were forced to live through the onslaught of Hurricane Dorian for three (3) days—in a very bad place mentally and emotionally in the immediate aftermath of the storm.

The post-trauma of the experience took its toll on me. During this period, my friend Brensil Rolle, the Honourable Member for Garden Hills, who has opted to not to contest for this place in the next General Elections, never left my side
...TO CONTINUE SEE ATTACHED