Last Updated:

Aug 7, 2018 - 11:31:23 AM
---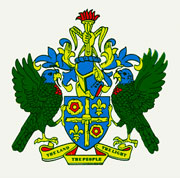 St. Lucia - The Official Funeral for former Parliamentary Representative for Micoud South, Honourable Arsene Vigil James, is scheduled for Friday August 10th 2018 at the Church of the Holy Cross, Desruisseaux, Micoud.

The former Minister for Education and Culture, who has also served as Leader of the Opposition, passed away on Sunday, July 29th 2018 at the age of 73.

In his honour Parliament will convene a Joint Sitting of both Houses on Wednesday, August 08th 2018 at 10:00 a.m.

A Special Tribute Evening for Mr. James, who was dedicated to the community of Micoud, is scheduled for Thursday August 9th 2018 at the his Desruisseaux residence from 6:00 p.m.

On Friday, the body of Mr. James will be lying in repose at the House of Parliament from 9:00am for viewing by officials and dignitaries, followed by a viewing for the public from 10:30 a.m to 11:30 a.m.

The Official Funeral Service for Mr. James will begin from 2:00 p.m. in Desruisseaux.

The Government of Saint Lucia once again extends deepest condolences to the James family and to all who knew and loved Mr. Arsene James.






© Copyright 2018 by thebahamasweekly.com

Top of Page