From:TheBahamasWeekly.com


GB Chamber of Commerce
GB Chamber challenged to become voice of Wallace Groves Vision
By Sarah Kirkby, GB Chamber of Commerce
Feb 11, 2014 - 2:46:15 PM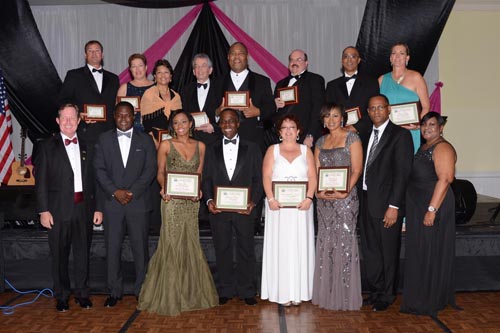 Newly installed officers and directors of the Grand Bahama Chamber of commerce Saturday night at the Grand Lucayan. Pictured are back row (left to right) Dan Romance, Bradford Marine, Lynn Lowe, Kelly's Freeport Ltd., Janet Albury, VIP Services, Mick Holding, GB Shipyard, Kevin Seymour, Pharmachem, Larry Albury, Freeport Jet Wash, Dillion Knowles, Dillon F. Knowles Consulting and Sarah Kirkby, Barefoot Marketing; front row (left to right) guest speakers Alexander Sokoloff, Embassy of the United States of America, Khaalis Rolle, Minister of State for Investments, Billie Bowe, Benchmark Ltd., Barry Malcolm, Global Fulfillment, Leigh Termath, Bahama Buy & Sell, Tish Sherman, Ramses International Ltd., Dr. Micheal Darville, Minister of Grand Bahama, and Mercynth Ferguson, Executive Director. (Not pictured are new Directors Wenrick Clarke, Bank of the Bahamas and Patra Albury, Pelican Bay as well as newly elected Secretary, Carmel Churchill, Grand Lucayan) Photo: Derek Carroll


Freeport, Bahamas – Grand Bahama's business community came out in force for the Annual Banquet and Installation of the Officers and Directors of the Grand Bahama Chamber of commerce Saturday night.

The gala event, held at the Grand Lucayan Resort, evening began with comments from Barry Malcolm, serving his second term as the President of the Chamber. He noted in his presentation that "Issues about the future of Freeport have occupied much of the Chamber's attention over the past year, and will, I expect, similarly occupy us over the next year."

"The business community continues to be unsettled -- by uncertainty of leadership for Freeport, the depth and sustainability of new investment, the impending expiration of tax concessions, the current introduction of new taxes, apparent shrinkage rather than growth of the economy, and other factors that increase the risks of investing in our economy."

He continued, "Therefore, rather than just allow this all to happen, it is the Chamber's view that we should all be about the mission of making Freeport and by extension the Bahamas, the most investor friendly business center on the planet. "

Guest speaker for the night was Mr. Alexander Sokoloff, Political and Economic Specialist of the Embassy of the United States of America, who has visited with the Grand Bahama Chamber of Commerce on behalf of the U.S. Embassy several times, stated in his speech that he felt that Grand Bahama could certainly turn itself around. He felt that "Freeport has lost some of its belief in Grove's dream and has not successfully articulated a new vision that investors and residents alike can embrace." He urged the new Board of the Grand Bahama Chamber of Commerce to become the voice of that vision.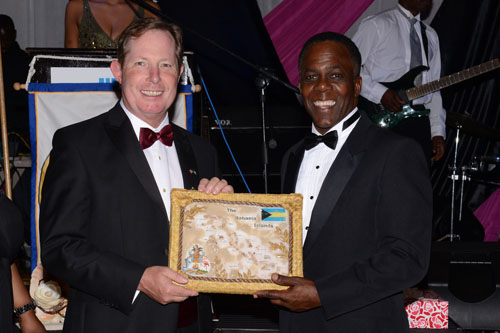 Guest speaker for the night was Mr. Alexander Sokoloff, Political and Economic Specialist of the Embassy of the United States of America. Sokoloff stated in his speech that he felt that Grand Bahama could certainly turn itself around. He felt that "Freeport has lost some of its belief in Grove's dream and has not successfully articulated a new vision that investors and residents alike can embrace." He urged the new Board of the Grand Bahama Chamber of Commerce to become the voice of that vision. He is seen here with GB Chamber president, Barry Malcolm (right). Photo: Derek Carroll


He recounted his experience in Rwanda, where that country, in 2008 was in very bad shape. The government and the people committed to turn this around and worked with the American Embassy, by focusing on improving their stature on the important ranking of World Bank Ease of Doing Business Indicators, the annual study that ranks the business environment of over 180 countries worldwide across a range of indicators that in a nutshell measure how much red tape investors have to plow through to transact business. In just a few short years, Rwanda was able to move up significantly in the world's ranking and this has improved their investment and the general state of the country immensely.

In addition, Sokoloff encouraged that Grand Bahama establish and "Amcham (American Chamber of commerce, which would benefit any enterprise that conducts regular business with the United States. The AmCham would come in handy in identifying potential business partners and future investors.

He was followed by Mr. Khalis Rolle, Minister of State for Investment, who spoke on behalf of the government and encouraged both the business community and the GBPA to continue its dialogue with the Government. Following the speeches, the new Board of Directors were officially installed by The Honourable Dr. Michael Darville, Minister for Grand Bahama.

The event, while a formal one, was fast-paced and guests were able to enjoy dancing to live music by local band, Uppercut, who helped end the night but getting the dance floor packed. "We were very pleased with the support from our fellow business partners tonight," said Leigh Termath, first Vice President. "The GB Chamber is very strong at the moment and focused on supporting each other in business, it's our time to move forward!"




© Copyright 2014 by thebahamasweekly.com -