From:TheBahamasWeekly.com


Community
442 Graduates Form 2011 Commencement Class of The College of The Bahamas
By The College Of The Bahamas Office of Communication
Jun 7, 2011 - 10:45:56 AM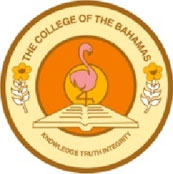 The College Of The Bahamas
Office of Communication


Nassau, Bahamas – In one of the single largest indicators of the institution's transition to becoming a university, 65 percent of the 442 graduates of The College of The Bahamas earned baccalaureate degrees, the highest percentage in the history of the institution. The College held its 2011 Commencement Service on Thursday, May 26
th
under the theme: "Overcoming Challenges, Embracing Opportunities."
The College values the international learning experiences that it affords its students who go on to compete on an international playing field, raising The Bahamas' profile in the global arena. Regional Coordinator of Policy, Government and Public Affairs for the Chevron Corporation, Ms. Mariette Storr, AA '85, is a proud graduate of The College who returned to deliver the 2011 Commencement Address.
She implored the newest alumni of the institution to keep a tight rein on their goals and seek the wise counsel of others.
"Even if you choose to define success by how well you raise your family, or by how well you contribute to the greater community, we need your generation to vary your dreams to suit not just the needs of our country, but the needs of the world," she said.
Ms. Storr also urged the Commencement Class to think locally, but act globally as they improve their marketability and the country's resiliency.
"We can no longer deny that The Bahamas has become its own melting pot of various cultures, languages and peoples. This calls for greater flexibility in how we choose to relate to others who share our world," she added. "One of the ways we can be more flexible is by becoming multi-lingual. For the last ten years, I've interfaced with colleagues who have two, three and four languages, and they speak my language as well as I do. They are at a distinct advantage, and the opportunities for them to soar are numerous."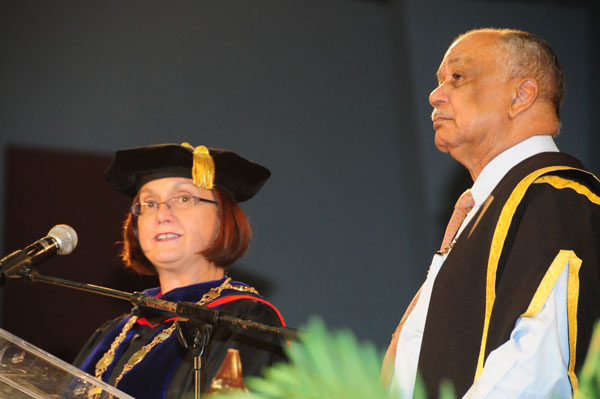 Hundreds of family members, friends, supporters and mentors of the graduates along with members of the College community attended the Commencement held at the Diplomat Centre of Bahamas Faith Ministries on Carmichael Road. College Council Chairman Mr. T. Baswell Donaldson conferred degrees from various disciplines including business, social and educational studies, liberal and fine arts pure and applied sciences and culinary arts. Mr. Donaldson said the graduates deserved to be proud of their accomplishments and the solid foundation they received at The College of The Bahamas.
"Graduates, yours is a shared success, a community achievement and the ending of this particular odyssey into higher education that must be celebrated and remembered for years to come," he said.
"But while you relish your well deserved accomplishments, pay particular attention to the realities of the world that awaits you: a world where there is immeasurable wealth, but still abject poverty; where there are amazing advances in technology and scientific discoveries, yet an erosion of fundamental values and ideals, a world marred by social and economic unrest and conflict, but where embracing differences and challenges position us to overcome common foes. I challenge you to avoid resting on present laurels. Instead, constantly seek new ways to guarantee future successes. Consider how you are serving and preserving what is best in our society and in humanity."
The 442 graduates this year represented a 2% increase over the 2010 Commencement Class. Twenty-four percent of the graduates were males. In addition to the baccalaureate degrees, graduates also earned associate degrees, diplomas and certificates.
In her first Commencement address as President of The College of The Bahamas, Dr. Betsy V. Boze reminded the graduates of their international responsibilities.
"There are challenges ahead, to be sure; those with the potential to impede human development, community cohesion, social advancement and true progress. But vast opportunities also await you, opportunities that may be the most gratifying and rewarding ever," she said. "Your mission will be to help this nation overcome challenges and embrace these new opportunities. None of you should leave this Diplomat Centre thinking that this goal cannot be accomplished. In life, you will be confronted with many obstacles, but the ones with the greatest potential to hold us back are the ones that we impose on ourselves."
Among the special graduation honours awarded at the Commencement were: the Governor General's Award presented to Lynette Q. Gibbs, BEd, for earning the highest cumulative GPA over 3.70; the President's Award presented to Reva D. Sharma, BA, Public Administration and Bahamian & Caribbean Literature, for her academic distinction, leadership in extracurricular activities and high personal character and The College of The Bahamas Alumni Society Leadership Award presented to Tavaris O. Sands, BEd, for attaining a minimum cumulative GPA of 3.00 and demonstrating consistent leadership in a college club or organization. BEd graduate, Collette B. Pickstock, was also awarded the Scholar Athlete Award for her academic distinction, extraordinary athletic contributions, leadership qualities and involvement in community activities.


© Copyright 2011 by thebahamasweekly.com -