Last Updated:

Feb 6, 2017 - 2:32:04 PM
---
Bahamas Opposition leader Dr. Hubert a. Minnis, statement on the passing of Thomas A. Robinson


By Bahamas Opposition leader Dr. Hubert a. Minnis
Nov 27, 2012 - 11:53:00 PM


Email this article
Mobile friendly page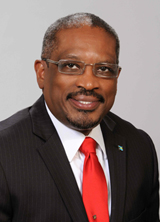 It is with deep sadness that the Free National Movement notes the passing of National Sports Hero, Thomas Augustus Robinson.

We join Bahamians everywhere in paying tribute to a legendary Sports pioneer who was the first Bahamian to take 'Bahamas Sports Power' to the world stage. Commencing on November 23rd, fifty six years ago in 1956, Tommy, as he was affectionately known throughout the Bahamas, became the first track and field athlete to represent The Bahama Islands at the Olympic Games.

After the 1956 Summer Olympics in Australia he competed , and then at three further Summer Olympic Games. Thomas Robinson was the first Bahamian to ever win a medal in an International Track event and at the British Empire and Commonwealth Games in Cardiff, Wales, in 1958, where he won the Gold medal in the 200 yard sprint. In a sign of National appreciation for his outstanding contributions to the development of Track & Field athletics in The Bahamas, the original Track & Field Stadium in the Queen Elizabeth Sports Centre, and now the new National Track & Field Stadium, were named in his honour.

As the National coordinator of the building project for the National Stadium, Thomas A. Robinson, with zeal and commitment, greatly assisted in the timely completion of the construction, and it was with unabashed celebration that we all witnessed his joy in the accomplishment and completion of that National monument, which bears his name, and commemorates his important achievements.

Throughout his life Tommy displayed great humility and grace. He was always approachable, and made himself and his immense expertise available to the hundreds of young people who were drawn to him. He was recognized internationally wherever he travelled, and was afforded the highest courtesies, yet always maintained the common touch.

Today, fifty six years and two days after this national hero made history for our country in the 1956 Melbourne Olympic Games we cherish the memories left by this outstanding son of the soil.

On behalf of the Free National Movement I wish to offer to Tommy's immediate and extended family, and the sporting community as a whole, our deepest and most sincere condolences. We will all miss him.






© Copyright 2012 by thebahamasweekly.com

Top of Page