From:TheBahamasWeekly.com


Community
Civil Society Bahamas hosts Milford Lockhart, author of 'Yes You Can' on eve of first Majority Rule Day holiday
By Anthony Hamilton
Jan 20, 2014 - 10:23:35 AM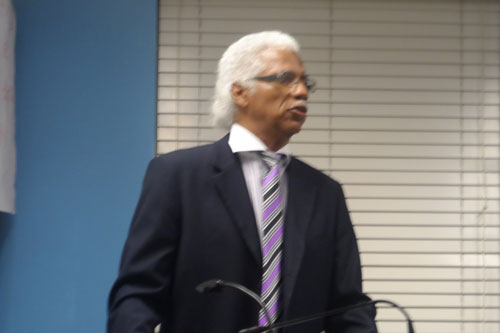 Nassau, Bahamas - Civil Society Bahamas, as the voice of the people and in its recognition of the First National Celebration of Majority Rule Holiday, hosted their first monthly meeting of Civil Society Bahamas for 2014 on 9th January. The featured guest speaker was Mr. Milford Lockhart, author of the book, 'Yes You Can'.

The meeting highlighted the known potential of Bahamians and the nation of The Bahamas, as reflected in Civil Society Bahamas' address at the Constitution Commission on Thursday, 21st March, 2013. The Forward, Upward, Onward, Together movement and commitment of the officers and members was supported through the guest speaker's presentation.

Mr. Milford Lockhart stated, "This is the eve of the first celebration of Majority Rule Day. We took forty-seven years to get to this state. The foundation of Christianity was laid in three years; is it possible that we can lay a foundation of our economic development or empowerment over the next three and make the jubilee, the 50th, something meaningful, exciting and worthy of celebration? The answer is to borrow from the borrower, yes we can". Mr. Lockhart explained, "Here is how simple this process is. If government is so inclined, it can impose a one and a half percent tax on salaries for ten (10) years for the sole purpose of national development. My latest estimate is that it would raise sixty three (63) million dollars, which could 1. Build a tourist attraction with a 50 million seed capital employing 3,500 persons. 2. Build twenty fish farms at a cost of 250,000 dollars each employing 1,200 persons. 3. Build one 200-acre farm at three million dollars employing 400 persons. This would employ a total of 5,100 persons".

The presentation was well received by the audience and Mr. Lockhart responded to questions at the end of the session for strategic engagement of both members and guests in attendance. Those present were further admonished to think about what input they can give on a national level to address Civil Society Bahamas' operational theme of Re-education, Training and Development.

Mr. Anthony Hamilton, President of Civil Society Bahamas, posited the view that there is a lack of accountability for the current atmosphere of national "Distress, Debt and Discontentment" evidenced among the citizens of The Bahamas. Therefore, Civil Society Bahamas has been positioned, to assist in the development of a National Vision for the Bahamas to encourage an atmosphere of accountability through a consultative environment for all national stakeholders. Mr. Hamilton further stated that Civil Society Bahamas is committed to working with Civil Society Stakeholders and other institutions to encourage strategic and sustained national development.

Civil Society Bahamas is made up of non-profit, non-governmental organizations and concerned individual residents and citizens of The Bahamas. Membership ranges from unions to social clubs, environmental groups, religious societies, advocacy groups and charities.

Included in the mission of Civil Society Bahamas is the commitment to expound and promote the principles of democracy throughout The Bahamas, especially among the youth; and to provide a focal point for dialog for all Civil Society Organizations, Non-Governmental Organizations and individuals of The Bahamas.

The executive officers of Civil Society Bahamas are Anthony Hamilton - President, Leslie Moore - Vice President, Richard Johnson - Secretary, Sharmaine Adderley - Assistant Secretary, Prodesta Moore - Treasurer, Philip Simon - Assistant Treasurer, Terry Miller - Director, Wilfred Smith - Director and Lowena West – Director.




© Copyright 2014 by thebahamasweekly.com -