Last Updated:

Feb 6, 2017 - 2:32:04 PM
---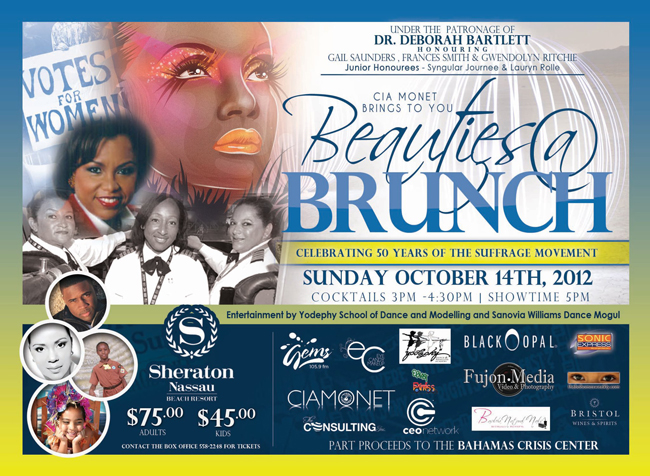 Nassau, Bahamas - Veteran journalist, Dr. Deborah Bartlett, CEO of Gems radio, life coach, author, and TV talk show host is lending her support as patron of the final Beauties @ Brunch event on October 14th at the Sheraton Nassau Beach Resort.
The hallmark of the event is its celebration of fashion, beauty, sophistication, nation building, professionalism and poise showcased at premium venues with food and wine.

"Women are wired to influence.....
Patricia

Chatti is influencing women to celebrate one another," said Debbie Bartlett. "I am honoured and humbled to serve as Patron. I am confident that when the future arrives

Patricia

Chatti and her vision, Beauties @ Brunch will be celebrated for preserving and helping to strengthen the legacy of many Bahamian women!"

"Dr. Bartlett is the Bahamian pioneer and a woman who has been first in many achievements in The Bahamas as it relates to women's affairs, and media.," said Patricia Chatti of Cia Monet. "We are thrilled to have her support."


As a graduate with a Bachelor's Degree in Mass Communications from Augustana College in Rock Island, Illinois Ms. Bartlett has served with distinction as a broadcast professional for over thirty years.


She joined the Broadcasting Corporation of The Bahamas (ZNS) where she remained for 20 years before going into full time entrepreneurship. At ZNS she began her career as a copy writer, chief news editor assigned to the political leaders of that day including the late Sir Lynden Pindling and former Prime Minister, the Rt. Hon. Hubert Alexander Ingraham. She was able to interview such persons as the President of South Africa, Nelson Mandela, the Chairman of Heinz, Dr. Tony Oreilly and the Prime Minister of the Bahamas, the Rt. Hon. Perry Gladstone Christie.

Her media administrative skills were considerably strengthened when, while serving as Assistant General Manager of television she successfully restructured the news, sales and marketing departments. As a talk show host, Dr. Bartlett is celebrated for the television programmes, "Reaction" and "Woman" produced and aired in the 1980's The radio version is now being aired on GEMS 105.9FM, and her documentaries that included "Base Streets" with her former boss, Obie Wilchcombe. The documentary is an expose of the crack cocaine epidemic in the Bahamas back in the eighties. Ms Bartlett is also the brain child of the anti-drug campaign, "Say Yes to Life". Ms. Bartlett was also the first journalist in the Western Hemisphere to produce and host a documentary on the former President of Haiti, Jean Bertrand Aristede.


The GEMS New Media Network and GEMS 105.9FM is the vision of Dr. Bartlett and was established in 2006 as a multi media platform, established to inspire the human potential around the world. The global vision is attracting regional and international opportunities in journalism, programming and media development. Through its holding company, the first HD television station was built in the Turks and Caicos Islands in 2006, with Dr. Bartlett as its Managing Consultant.


The GEMS New Media Network ha

s strategic relationships with some of the biggest media empires in the United States and Caribbean. The strategic relationships include America's largest media company, the Clear Channel, the Sheridon Broadcasting


Corporation and the Rightside, with syndicated talk show host Armstrong Williams. The content of the Radio Network is guided by the parent company.


The CEO Network, which was established in 1997, a vision developed by Ms. Bartlett, is internationally recognized for its conferences and networking skills. The Company is headquartered in Nassau Bahamas and is designed to help strengthen the work ethic, raise levels of productivity and serve as a networking platform for economic empowerment. The motto of the CEO Network is "Empowering Professionals through Knowledge and Opportunities".


The veteran journalist is also a syndicated talk show host with guest appearances on the Rightside television show, which is seen on 84 television stations including ABC, CBS and Fox affiliates and XM Radio which are hosted by Mr. Armstrong Williams.


In 2010 McHari International College awarded her an Honorary Doctor of Philosophy in Organizational Leadership/International Media.


Dr. Bartlett serves on the Board of Governors of Bahamas Faith Ministries.


Dr. Bartlett has been appointed managing consultant for the Caribbean for the Martin Luther King jr. legacy for the next three years (2012-2015). Next year (2013), the 50th anniversary of the "I have a dream" speech will be celebrated. Additionally, a global day for Coretta Scott King will be held April 27, 2013. The CEO Network will again be responsible for co-ordinating that events for the Caribbean.

Cocktails begin at 3pm and the show kicks off at 5pm. This 4th event in a 4-part series will honour the three female captains (Gail Saunders, Frances Smith, and Gwendolyn Ritchie) of Bahamasair; and youth honourees Syngular Journee (Little Miss Petite Bahamas 2011) and Lauren Rolle (Brownies Captain of the year 2011 ).


Recording artist Julien Believe will be performing his new single,
Caribbean Slide
, along with a performance from former Miss Bahamas. Richa Sands. There will also be numbers by the Yodephy School of Dance and a solo dance performance by Sanovia Williams Dance Mogul. Of course it would not be a Cia Monet event without a HAUTE COUTURE fashion show!
There will be heavily discounted pricing on all items worn in the fashion show as well as SILENT auction items to support the Crisis Center.
Cia Monet wishes to publicly thank their sponsors: Summers Eve, Fujon Media, TheBahamasWeekly.com, Black Opal, Eye Candy Makeup, Eblast Express, Gems Media and Apex Awards.
Previous Beauties @ Brunch events: In Nassau, the organization honoured Dr. Sandra Dean Patterson for her outstanding work with the Women's Crises Center. In Grand Bahama on June 24th, the group honoured Geneva Rutherford, an educator and community builder. In Abaco, Ms Astrid Stratton was honoured. She was the first female pilot and banker in The Bahamas.
Established in 2005, Cia Monet is an exclusive online shopping experience that caters to its client's every need. Providing high-end fashions, accessories, jewelry, cosmetics and fragrances from the lines of Bvalgari, Tiffany, Burberry, Mont Blanc, Links of London, Gucci, Chanel, BCBG and even Mac Cosmetics, Cia Monet is a one stop shop for all your fashion needs for women and men, children's clothing, shoes, and accessories.
Cia Monet is the Miss Bahamas swimsuit sponsor for 2012.

With a local showroom in Nassau, Bahamas, and an online presence Cia Monet is all about personal shopping. With thousands of products ranging from bedding to everyday fashion to choose from, your shopping possibilities are endless and all the choices are all just one click away… Inquire today! Find us on Facebook at Cia Monet
(Photos) Beauties @ Brunch in support of the Bahamas Crisis Center

Cia Monet's Beauties @ Brunch Celebrates Fashion and Honours Community Builder Geneva Rutherford
Abaco women honoured at Cia Monet's Beauties @ Brunch





© Copyright 2012 by thebahamasweekly.com

Top of Page