Last Updated:

Feb 6, 2017 - 2:32:04 PM
---
Director of Education Addresses Participants at Future Teachers of The Bahamas 2013 National Conference


By Ministry of Education
Apr 12, 2013 - 1:22:37 PM


Email this article
Mobile friendly page


Nassau, Bahamas - The Director of Education, Mr. Lionel Sands gave the opening address at the Future Teachers of The Bahamas National Conference on Thursday, 4th April, 2013. Over one hundred fifty (150) Teacher Cadets from public and private schools in New Providence and the Family Islands attended the one-day conference at the British Colonial Hilton Hotel. Under the theme, "Yes I Can", the cadets were motivated by presentations from speakers such as Pastor Ricardo Clarke, Mr. Clint Watson, Ms. Crystal Alexander, Mrs. Beverly Mattis, Mrs. Sonya Smith, Mrs. Agnes Stubbs and Ms. Rujean Hart.

The objectives of the conference are to:

• provide cadets with an opportunity to meet and share ideas with peers who have similar career aspirations;
• encourage cadets to believe in themselves and to arduously strive to apply their abilities to achieve their goals;
• nurture and motivate cadets to work at maximum performance to excel academically and
• assure cadets of the Ministry of Education, Science and Technology's commitment to the growth and development of the Future Teachers of The Bahamas Programme and reaffirm our government's belief in its importance and effectiveness as a viable student-teacher recruitment initiative.


Director Sands stated that staging a conference of this nature is very necessary to the development and sustainability of teaching careers in education in The Bahamas. He told the Teacher Cadets to formulate a plan of action for their career and follow it in spite of the obstacles they will encounter on the journey.

Mr. Sands made it clear that while many cadets may be considering careers as Generalists, there is a critical need for Specialists in various subject areas. He encouraged the cadets to explore the opportunities available and choose an area of specialization where they can make a positive impact.

The Director also reminded the Teacher Cadets that, as educators, they would have some important responsibilities. He stressed the importance of being a good role model and the need to be aware of current best teaching practices and the latest learning tools in education. He pointed out that teachers never cease to learn and should always be at the top of their game. Mr. Sands further stated, "We need results. We need good results, so consume yourself with teaching."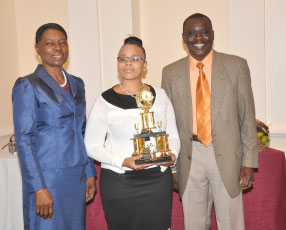 Director Sands and Mrs. Edith Rolle, Senior Education Officer of the Tertiary and Quality Assurance Unit presented trophies and awards at the conference. The Most Outstanding Recruiting Advisor was Mrs. Cindy Wade of Nassau Christian Academy. Mrs. Wade has been an Advisor in the programme for five years. The Most Outstanding Recruiting School award was won by Preston Albury High School in Eleuthera. Ms. D'Aesha Rahming, formally of St. Augustine's College received the award for obtaining the Most Outstanding BGCSE Results. She is presently attending The College of The Bahamas pursuing a Bachelor of Education degree in Biology. Ms. Nadia Hepburn-Whymms, formally of C.V. Bethel Senior High School was awarded for being the Most Outstanding Teacher Education Graduate. She graduated from The College of The Bahamas in 2012 as the Valedictorian.


When asked to give her views about the Future Teachers of The Bahamas Programme, D'Aesha Rahming said she thought it was worthwhile to participate because of the benefits. She noted the advantage of gaining first hand information about the field of education and forming relationships with aspiring and current educators. D'Aesha said she would encourage more Bahamians to join the profession because they have the ability to connect with Bahamian students on a cultural level.

Johnathon Saunders, an eleventh grade student at Mangrove Cay High School in Andros, aspires to become the best Mathematics Teacher ever. Johnathon shared that when he joined the Programme it opened his eyes to a career about which he could be passionate. He said he would encourage other young men not to think about teaching as a career for women, but for men as well. Johnathon would like to return to his hometown and teach in his own community to help to better opportunities for students there.







© Copyright 2013 by thebahamasweekly.com

Top of Page