From:TheBahamasWeekly.com


Community
Glenn's Gift that keeps on Giving
By Robbin Whachell and Maria Martella
Jan 30, 2008 - 4:34:54 PM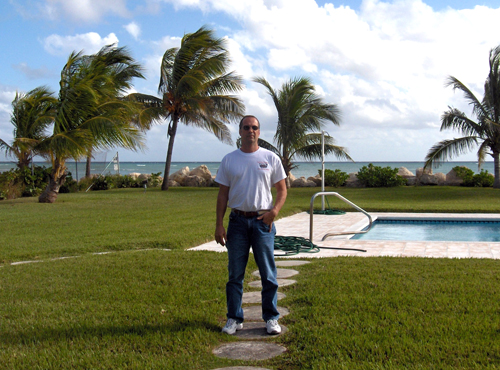 Glenn Martella in The Bahamas.


This is a wonderful heartfelt community story about how a dying man's generosity supplies an entire project to help others in need. It shows how God can truly bring people into our lives for a reason, and often we think we were just lucky to be in the right place at the right time to meet someone special…but maybe it is predestined or the way He wanted it all along.

Here, Maria Martella speaks in her own words on how she and her husband Glenn's visit to The Bahamas introduced them to some very special people, and how those connections went on to accomplish something quite remarkable, despite the loss of the man she loved.

"My husband and I went to Grand Bahama Island in The Bahamas on October 28, 2006, in order for my husband Glenn to start his cancer treatments at the AIT Clinic there. He was diagnosed with stage 4 renal cell carcinoma in September of 2006. On our first day in the country, my husband and I met Solange Archand, our next door neighbour through the realtor. Later that day the realtor had dropped us off at the market and promised to come back and pick us up in an hour and unfortunately, we were waiting outside for quite a while when Solange approached us and asked us if we needed a ride home. That same weekend Solange asked us if we would like to go to mass with her and she took us to St. Vincent de Paul Catholic Church. That was the beginning of Glenn's relationship with the people and the community of St. Vincent's as we continued to go to mass every Sunday there.

That November Solange mentioned that she was going to have several students from St. Bonaventure University in New York staying visiting her over the Thanksgiving weekend and we decided to coordinate our efforts and have Thanksgiving dinner together. That Thanksgiving day, we met Jeff Rathmann and several other students from St. Bonaventure University. The students were in Grand Bahama Island as part of a community relief project. My husband Glenn and Jeff became fast friends as Glenn was completely overwhelmed by the generosity and selflessness of these young individuals who were willing to spend time helping those less fortunate. During this time, Glenn mentioned to Jeff that he had lots of construction equipment that would enable the group to do more work, in less time, which he was willing to loan to the group. At this time, my husband believed he would survive this ordeal and be able to eventually go back to work.

My husband came home for the Christmas holiday and during that week, despite his being very weak and in lots of pain, he packed his trailer with the tools he felt the students would need. He was on a mission. That is the only way I can explain how he was able to do what he did despite his illness. He spent the week buying additional items such as paint brushes, hammers, screwdrivers etc. to get his trailer ready. He wanted to make sure he had enough hammers and screwdrivers for every student. He had numerous telephone conversations with Jeff Rathmann during that week as Jeff was instrumental in arranging for the shipment of the trailer and tools to The Bahamas.

My husband drove his truck and trailer to the Port of Palm Beach. I wanted to go with him as I knew he was very weak and in quite a bit of pain, but my husband insisted he would do it alone.

My husband came home on January 29 and died on March 6. Father Reggie and Deacon Jeff officiated at his funeral mass at All Saints Catholic Church in Sunrise, Florida. Jeff came to the funeral and gave a very touching eulogy.

Our friendship with Solange was a true blessing. I continued to work and was on intermittent family leave and would travel to The Bahamas for long weekends. Glenn and I very much admired Solange's strength and courage and her ability to open her home and heart to strangers. When I was unable to be with Glenn, it gave me comfort to know that Solange was right next door. She called Glenn her "adopted son" and believe me, that is the way they both felt about each other. God truly does bring people into your life when you need them most. Solange was our gift from God. She is a very dear friend."
The tools that Glenn gave, approximately $25,000 worth, will now continue to do good work in Grand Bahama Island. The students from St. Bonaventure University just completed a trip here at the beginning of January where much was accommplished. They worked at the YMCA a full day, and helped with a library out at Holmes Rock, as well as fixing things up out at the YMTA centre in Hunters. They also offered after school programs and computer help. St. Bonaventure University plans to return again and again and to maintain relationships and start programs to support the youth of Grand Bahama as well as provide summer camps and after school programs.

The Martellas were so inspired by the student's accomplishments, that they plan to continue supporting their "service trips" to Grand Bahama Island. Glenn is now gone, but the gift of his donated tools have many years work ahead of them, and have provided so much to the visiting students, and of course to our Bahamian community!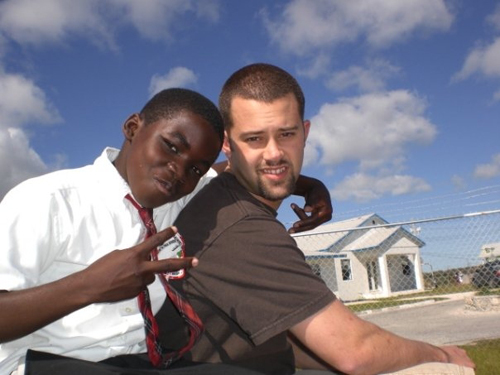 Jeff Rathmann on one of his many trips to Grand Bahama Island. Jeff befriended Glenn, and even spoke at Glenn's funeral.
Jeff Rathman wrote us and here is his message below in regard to knowing Glenn and his work here in The Bahamas:
Glenn was definitely a wonderful and generous man, and really was an example of a 'genuinely good person' as even on his death bed he wanted to keep helping others. I'm am very fortunate that I met him at the time I did and was able to help in his wish to donate the abundant amount of tools that he did. Every year myself and the students of St. Bonaventure SIFE work as hard as possible in the Bahamas to accomplish as much as possible in the time frame we have and every year has been a successful trip. This past January was my 12th time to the island and I will continue coming down either by myself or with the group for the rest of my life.
The Bahamas is in my blood now as I have made so many friends from all parts of the island and enjoy coming down so much. One day however, I would like to come down for some vacation time as all 12 times have been non-stop work for me, whether it is the group trip of 60 students or coming down as I did in June for 3 weeks by myself.

Every year the group trip seems to get better as we get more of a grasp on things and how things have to run when we're there. Also with our student teacher programs down there now, where we have 5 student teachers down there for 2 months fulfilling part of their student teaching requirements at the University in schools in the Bahamas we establish more of a presence on the island and a knowledge that we are in fact there to stay, and will keep coming back as much as possible.

I hope this information helps and if you need anything else now or in the future don't hesitate to ask. I am starting my new career at the end of this month in Baltimore and I will still be taking time off every year from my job to come to Grand Bahama Island to help out and to visit my good friends.

Thanks,
Jeff Rathmann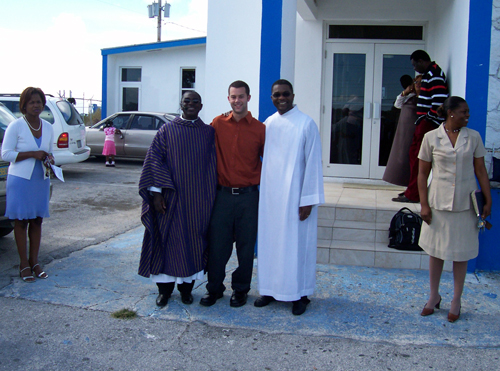 To learn more about what St. Bonaventure is doing in Grand Bahama Island, read both of these related articles CLICK HERE.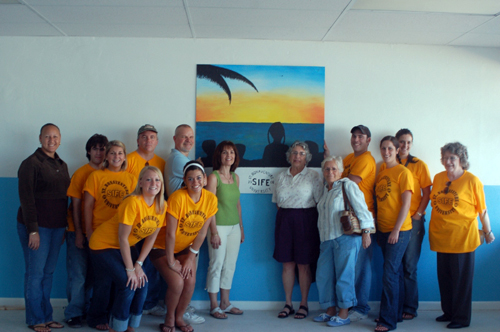 The St. Bonaventure University students and faculty stand in front of a painting they did for the YMCA to commemorate their work done there. Standing far left is Karon Pinder-Johnson, Executive Director of the Y, and Maria Martella stands centre in green, Solange is centre right holding the purse. Norma Martell is in the navy shorts. Christina Scott painted both the mural in this picture and the mural on the front of the YMCA in only 3 days solely by herself as her personal contribution to the YMCA.

Painting the interior of the YMCA in January 2008. St. Bonaventure University students from New York give back.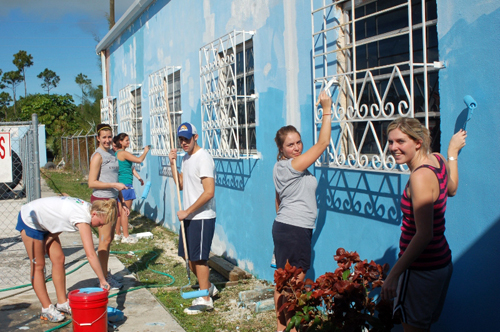 Helping at the Y - St.Bonaventure University students paint the exterior of the YMCA in January 2008.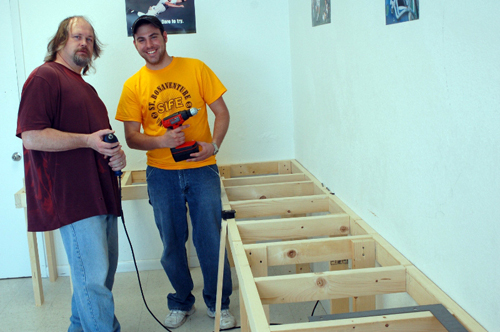 St. Bonaventure University student and faculty build cabinets at the YMCA in January 2008.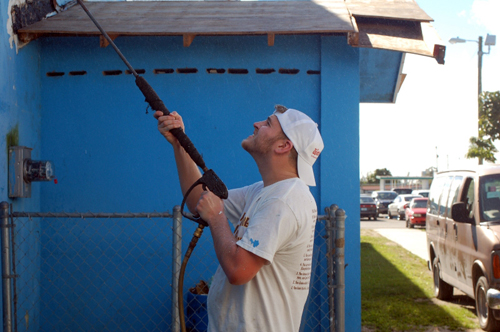 A St. Bonaventure University student power washes the YMCA.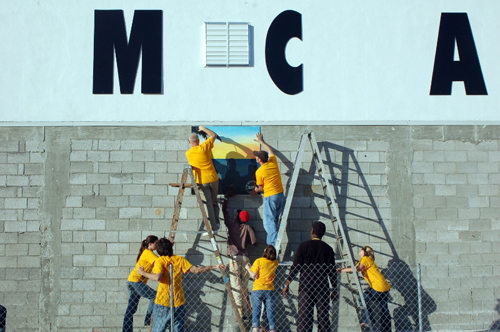 Lending a hand at the Y. The St. Bonaventure students put up a painting to complete the day of helping at the YMCA on Grand Bahama Island. Christina Scott painted this mural and another for the inside of the Y in only 3 days solely by herself as her personal contribution to the YMCA.


© Copyright 2008 by thebahamasweekly.com -