From:TheBahamasWeekly.com


Community
Jayde Pierce becomes first recipient of the Ethan S. Bain Environmental Health Foundation scholarship
By Shonalee King Johnson
Apr 26, 2012 - 12:33:55 PM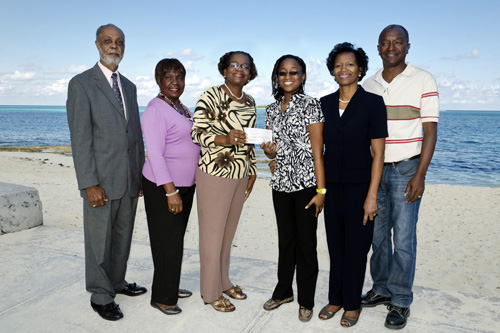 Nassau, Bahamas – An environmental major at George Mason University is the first recipient of the Ethan S. Bain Environmental Health Foundation (ESBEHF) scholarship. The executive board of the Foundation presented Jade Pearce with the scholarship valued at $2,000 per annum towards her studies. The scholarship is renewable based on academic performance.

A graduate of Queen's College, the 17-year-old freshman is completing her first year of study in Fairfax, Virginia. She has plans to return to The Bahamas one day to help raise the level of awareness on environmental matters in the country.

"There are so many opportunities to recycle at home in order to reduce the impact on our environment," said Ms. Pearce. "I'd like to one day establish a recycling factory here in The Bahamas so that reducing, reusing and recycling can become a way of life."

Established in 2006, the Foundation is named in honor of Bahamian Environmentalist the late Ethan S. Bain. The organization's main goals are to sponsor programs/projects which create awareness and to provide environmental professionals with opportunities for continued professional development through scholarships and training.

"We are pleased to award this first scholarship to Jade," said Jacqueline Bain, founder of the Foundation named in her husband's honor. "She embodies the characteristics that Ethan admired most—a passion for the environment, keen academic abilities and a humble spirit."

In addition to scholarships, the Foundation continues to partner with The College of The Bahamas, the Ministry of Education and the Department of Environmental Health to provide training opportunities for those interested in environmental preservation.

For more information on the Ethan S. Bain Environmental Health Foundation or to donate, please visit www.ebainenviro.org or "Like" their Facebook page at Ethan S. Bain Environmental Health Foundation.


© Copyright 2012 by thebahamasweekly.com -