From:TheBahamasWeekly.com


Community
St. John's College wins the Build-A-Bridge Battle
By Ministry of Education
May 20, 2011 - 11:41:17 AM






Nassau, Bahamas - St. John's College dashed St. Augustine's hope for a third consecutive victory in the Build-A-Bridge competition sponsored by Integrated Building Services held at The College of The Bahamas Performing Arts Centre on Thursday, 5th May 2011. The contest which was first launched in 2004 featured tenth and eleventh grade students from sixteen private and public schools throughout The Bahamas competing to determine who can build the lightest bridge that can hold the greatest weight.

Students are provided with 300 regular Popsicle sticks and Elmer's glue to construct their bridges and can use any other materials. The objective of the competition is to generate interest among high schools in the field of engineering. The competition is staged by a duo of young Bahamians, Nick Dean and Kevin Sweeting, of Integrated Building Services




Mr. Ross Smith, District Superintendent in charge of High School Curriculum at the Ministry of Education spoke on behalf of the Minister of Education, The Honourable T. Desmond Bannister at the event. Mr. Smith told the budding engineers that they are venturing into an extremely disciplined field and not paying attention to details or cutting corners can cause grave consequences.

Mr. Smith further told the students about Mr. Thomas Heausler, an American Engineer and writer, who noted that "engineers get their glory through anonymity; that is, as long as their building stands firm". He admonished them to become professionals that will be known for their integrity, adherence to standards and the welfare of your clients.

Prior to the competition, Anatol Rodgers High School had declared on Facebook that it would be victorious. It was the first school to have it bridge weighed and its weight of 137. pounds made it a contender to finish in the rankings. The organizers kept the audience in suspense by saving last year's three top finishers C. C. Sweeting Senior High School, St. John's College and St. Augustine College to be weighed last. Prior to this, bridge after bridge collapsed after being weighed with sand and weights, keeping Anatol ahead in the standings.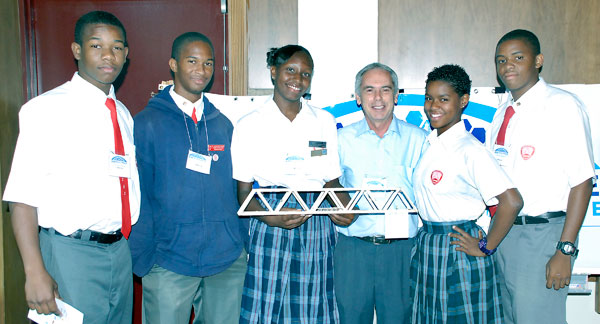 St. John's College's bridge took almost twenty minutes before it collapsed causing the defending champions to have doubts about retaining the title. St. Augustine's however, came to win and demonstrated their experience in the competition by the building the strongest build. In the end St. John's College was announced the winner having constructed the lightest build in proportion to its weight. St, Augustine's finished second and Anatol Rodgers was third.
Organizers for the first time added an Aesthetics category to the contest. C. V. Bethel Senior High School was the winner of this segment followed by St. Andrew's School, second and St. John's College third.


© Copyright 2011 by thebahamasweekly.com -