From:TheBahamasWeekly.com


Community
The Bahamas Weekly FREE Summer Camp Directory 2018
Jul 20, 2018 - 6:30:56 AM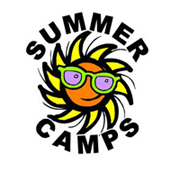 Now in our 12th year! The Bahamas Weekly is pleased to once again offer FREE summer camp listings for ANYONE / ANYWHERE in The Bahamas! Have your camp included in our DIRECTORY at no cost!
Summer is a time for children, and we want to ensure your children have a great summer. As a community service, The Bahamas Weekly allows anyone running a Summer Camp in The Bahamas to list their information about their camp viewable to thousands of our readers each month for FREE. Get your Camp Info to us NOW! Email all your details (about, cost, ages, sex, contact info, how to register) today!
We don't necessarily mean 'free camps', but our listings are free :)
SUBMISSION REQUIREMENTS: Please view the format below and send us similar content. Email all your details now ( About, Island, Cost, Ages, Sex, Contact info, Website link if applicable, How to register) to Info@thebahamasweekly.com
Want your CAMP POSTER place on this page? While text listings are FREE a one-time fee of $50 will apply to have your POSTER on the camp directory page - Please be sure to advise us that you want your poster placed. Only our text listings are free.
Get the jump on summer, and place your Camp Info with us NOW!

NASSAU:

June 18 - July 13: Summer Link Scholarship Program. For Grades 9 - 12. Monday to Friday, 10 a.m. to 3 p.m. Call 323-4347 or admissions@bibt@gmail.com

June 25 - July 13 (Session 1): NAGB Mixed Media Camp, National Art Gallery of the Bahamas. Kids ages 5 to 17. More info HERE. Email asmith@nagb.org.bc

July 2 - 27: FilMAD Camp 2018 - Filmmaking, Movement, Art and Drama (for Stage & Film). 8 - 17 years. Monday to Friday, 9 a.m. to 3 p.m. Early registration $250 by Friday, June 15. Regular registration, $325 by June 29. Late registration, $400. Email filmadcamp@hotmail.com or call 242-465-1839.

July 16 - 20: BREEF Sea Camp, at Ardastra Gardens. $100. Snorkeling, field trips, hands-on learning and games. More info HERE. Ages 8 - 14 years. 9 a.m. to 3 p.m.

July 16 - Aug 3 (Session 2): NAGB Mixed Media Camp, National Art Gallery of the Bahamas. Kids ages 5 to 17. More info HERE. Email asmith@nagb.org.bc

July 24 - 28: Hack<IT> Bahamas 2018, at St. Andrew's School. Five days of hands-on STEM instruction with a focus on developing a technology based startup, the camp will give nearly 100 attendees the opportunity to apply their knowledge to an issue of social impact within the Bahamas and compete for a cash prize. Starts 9 a.m. Tuesday, July 24, and concludes Friday, July 27. Competition and awards ceremony at 10 a.m. on Saturday, July 28, is open to the public. Students will compete for a grand prize. MORE information.


ANDROS:

July 24 - 27: BREEF Sea Camp, Andros at Kamalame Cay. Snorkeling, field trips, hands-on learning and games. More info HERE. Ages 8 - 14 years. 9 a.m. to 4 p.m.

June 25 - 29: BAMSI SEEDS Camp, Summer Education Enhancement Discovery Series, at the North Andros Campus. Ages 13 - 18 years. Crabbing, fishing fun, story telling, outdoor games, and more. Includes agriculture, aquaculture, environmental stewardship, STEM related activities, tours and exhibitions. For pricing and package options email admissions@bamsibahamas.com



GRAND BAHAMA:

June 25 - 29: Sir Jack Hayward Summer Camp, 9 a.m. to 3 p.m. at Freeport Football Rugby Club. Ages 7 - 16, boys and girls. Registration form HERE. $100, with scholarships available. Professional coaching from the UK, supported by local coaches. Email robspeller@hotmail.com
July 2nd - Aug 3rd: City of Freeport Council Grand Bahama FREE Summer Camp, 9am - 1pm Space is limited register now! For more information call 351-2303 or 352-2092

July 16 - Aug. 3: Shining Stars Basketball Skills and Position Camp is designed to challenge and prepare players for their basketball season through individual development and competition. This camp is geared towards players that wish to improve at their position. ALL Players will receive instruction on establishing post position, rebounding, individual moves, and post defense. ALL Players will be instructed on ball handling, passing, movement off the ball, setting and reading screens, and defense on the perimeter. Our players thrive on competition and skill development, which means we will focus on having fun in a structured, learning environment with lots of games! Contact Buster Laing buster_laing2003@yahoo.com or 439-4802.
July 23-27. Potcake Pals Summer Camp 2018 - Put on by the Grand Bahama Humane Society. Children will learn respect, care and responsibility for animals, team building through activities, crafts and time with the cats and dogs at the GBHS, the role of the Humane Society in our community, Vet care from their on site veterinarian. There will be be a field trip Ol' Freetown Farm, plus fun water Olympics day, daily prizes, games and crafts! 9 a.m. to noon. Ages 7-12. To register contact info@hs-gb.org or hand in completed registration forms at the Humane Society. Call 352-2477 for more info.


SAN SALVADOR:

June 18 - 22: BREEF Sea Camp, San Salvador at Gerace Research Centre. Free for residents! Snorkeling, field trips, hands-on learning and games. More info HERE. Ages 8 - 14 years. 9 a.m. to 4 p.m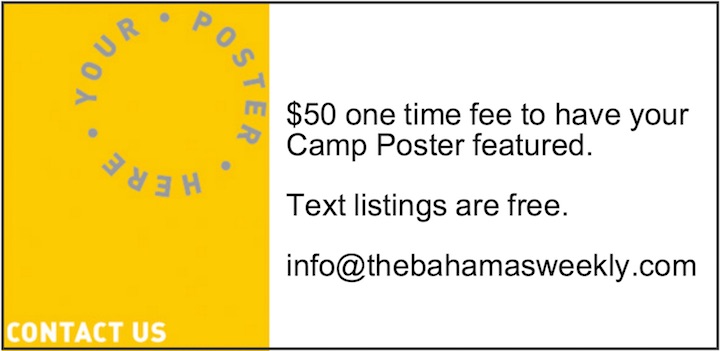 © Copyright 2018 by thebahamasweekly.com -