From:TheBahamasWeekly.com


Entertainment
2012 Video Web Awards Nominees Announced
By carivibez.tv
Jan 31, 2012 - 7:33:16 PM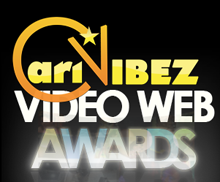 New York (NY) - The wait for the highly anticipated third installment of the CariVibez Video Web Awards is finally over.

Caribbean music has come a long way over the last decade and nowhere is that more evident than as seen through the quality of music being created by our artists and producers, the creative and eye popping music videos from our directors, and the creativity of the genre's unheralded heroes; our dancers and dance groups. The Video Web Awards, as the name suggests, is a web based award event that is true to its name and follows a format where the web community determines the winners who will be awarded the Global Tower of Recognition. The list of individuals selected as nominees in each category are those who have created significant buzz on the internet and recognized for their concepts, style, flow, creativity, and cinematography to list a few of the requirements.

The 3rd Annual Video Web Awards event has grown since its inception and has been expanded each year to include new categories. We are pleased to announce the addition of Gospel which is rapidly on the rise and embodies a spiritual infusion of a higher level as well as Dance Groups in recognition of their dedication and tremendous creative contribution to the genre on a whole.

In all there are eleven categories and one special award honoring the very best. The eleven categories are Director Avant-garde, Producer, Breakout, International, Best Collaboration, Dancer (male and female combined), Dance Group, Soca / Calypso, Gospel as well as individual categories for Female and Male Video of The Year. The Bogle Award, the twelfth category, will be presented to Ovamarz for his many contributions, commitment and being recognized as "Best Dance Creator" for 2011.

Family, friends, and fans of nominees can cast their vote(s) online by logging onto the Video Web Awards home page @ http://carivibez.tv/online/awards to show their support for your special achievement. The Video Web Awards polls will open on Friday, January 31st at 8:00pm (EST) and will close on Friday, February 29th 8:00pm (EST).

VOTING:

Once the polls are open, fans are allowed to cast one vote per category every 24 hours. The 24 hour counter is category specific and will begin immediately upon that fan casting a vote in a specific category. Therefore, a fan literally has 11 votes (1 in each category) and can use them all at the same time or return later to cast remaining vote(s) in another category.

THE NOMINEES

DIRECTOR AVANT-GARDE:
Nominees: Mykal Cushnie, Jay Will (Game Over), Dexter '3D' Pottinger, Chris 'Icey Jace' Campbell, Melissa Llewellyn, Kirk Lee (Roadblock Films), JayFresh, Shutah Films, Mills Miller, Robin Chin

2010 Winner: Chris 'Icey Jace' Campbell

2009 Winner: Jay Will (Game Over)


GOSPEL REGGAE VIDEO OF THE YEAR:
Nominees: Lypher - Make One, J Cee - Air I Breathe, DJ Nicholas ft. Jason Mighty - Divine Mathematics, Carlene Davis - Threshing Floor, Ryan Mark - Touch Di Road, Khaos ft. Toi - If God Was Like Man, Omari - Jehovah Guide Me, Kerron Ennis - God Is Not Done With Me Yet, Kary Diamond - Selfish Act

***new category***


BREAKOUT VIDEO OF THE YEAR:
Nominees: Trudy TruDiva - Party All Night, Kahlil - You're Gonna Be Sorry, Stephanie Wallace - Got It Right There, Sky Nicole Grey - Lollipop, Akshan - Pearl, Khago - Tun Up Di Ting, Riquey Bingham - Come Back To Me, Neil Amos - Clear, BMWA - Down Deh, Nefatari - They Don't Know

2010 Winner: IeYe 'I Know'

2009 Winner: G Whizz 'Life'


FEMALE VIDEO OF THE YEAR:
Nominees: Spice - Jim Screechy, Cherine Anderson - Make Up Sex, Queen Ifrica - Time Like These, Tiana - Bruk Out n Wine, Tifa - Get Flat, Trudy TruDiva - Party All Night, Danielle & Cherine - Rebel, Keida - Bubble Up, Raine Seville - Tra La La / Showdown, Ikaya - Get High

2010 Winner: Lady Saw 'Party Til December'

2009 Winner: Raine Seville 'Slippery When Wet / Be Careful'



MALE VIDEO OF THE YEAR:
Nominees: Shaggy - Sugarcane, Chris Martin - Paper Loving, Romain Virgo - I Am Rich In Love, Charly Black - Too Blessed, Konshens - Simple Song, Tarrus Riley - Shaka Zulu Pickney, Mavado - Settle Down, Chan Dizzy - Hello Badmind, Popcaan - Gangster City, Mr. Vegas - Bruk It Down

2010 Winner: I-Octane 'Lose A Friend'

2009 Winner: Jah Cure 'Call On Me''



SOCA / CALYPSO VIDEO OF THE YEAR:
Nominees: Shal Marshall - Trouble, Kes The Band - Wotless, Kerwin Du Bois - Bacchanalist, Farmer Nappy - Flirt, Michelle X - Fettin for Days, Mr. Renzo Ft Swappi 3D/4D - ExtraOrdinary, Ricardo Drue & Bunji Garlin - Shawty, Sizwe C - Turn It Up, Shurwayne Winchester - Wining Addiction, Machel Montano - Vibes Cyah Done

2010 Winner: Drastic 'Sugary Waistline'

2009 Winner: Destra Garcia 'Bacchanal'


DANCER OF THE YEAR:
Cookie Jah, Mystic, Kim LaQueen, Aya, Marvin, Melpo, Ivan Okinawa, Syrin Zero, Lilly MissLikklebit Ice (B-Ice), Wish Bone Di Dancer, Chad 'Global Bob' Torrington, Mika Dymond

2010 Male Winner: Chad 'Global Bob' Torrington

2010 Female Winner: Kim LaQueen

2009 Winner: Chad 'Global Bob' Torrington


DANCE GROUP OF THE YEAR:
Nominees: Dance Xpressions, Ghetto Legacy, Ground Zero, M.O.B, Chekkazz Dancers, Black Blingaz, Blazin Crew, Fresh Kidz, Active Dancers, Elite Team

***new category***


INTERNATIONAL VIDEO OF THE YEAR:

Nominees: Calibe - Hey DJ, Ray Neiman - Ton Sourire, Leftside - This Girl, Sean Paul & Alexis Jordan - Got 2 Love U, G Whizz - Bartender, Stylo G - Leader, Tenza - Waistline Crazy, Names M & D'Angel - Where They At, Marlando St. John - New Style, Cali P - Like A Lion

2010 Winner: Alborosie 'Blue Movie Boo'


BEST COLLABORATION:
Nominees: Danielle & Cherine - Rebel, Tiana & Konshens - Gal Mi Love U, Mr. Vegas ft. Teairra Mari & Gyptian - Pum Pum Shorts, Protojé & Ky-Mani Marley - Rasta Love, Chino ft. Denyque - Driving Me Insane, Barbee ft. Trina - Come See About Me, Richie Loop & Chris Martin - Summer Spazz, Alborosie & Jr Reid - Respect Yourself, QQ ft. Pamputae - Small Axe, Laza Morgan & Movado - One By One

2010 Winner: Taddy P / Mackie Conscious 'Leave The Crumbs Alone'



PRODUCER OF THE YEAR:
Nominees: Stephen 'Di Genius' McGregor, Patrick 'Roach' Samuels, Seanizzle, Chimney Records, Notnice Records, Head Concussion, JA Productions, TJ Records, CashFlow, Romeich

2010 Winner: Stephen 'Di Genius' McGregor



ABOUT CARIVIBEZ

CariVibez is an internet based entertainment and production company specializing in delivering rich Caribbean content through its online web portal CariVibez.tv, one of the first on-demand / playlist driven medium specifically catering to the Caribbean niche market. CariVibez boast a line up that features the latest reggae / dancehall / calypso music videos, fashion shows, and more.

Since its inception, CariVibez.tv has expanded its reach from an audience primarily in the Northeast (United States), and Kingston (Jamaica) to over ninety different countries around the world.

CariVibez.tv serves as an alternative to conventional television and provides fans the opportunity to keep up with the latest in Caribbean music, lifestyle, fashion, and cultural trends.


© Copyright 2012 by thebahamasweekly.com -