Nassau, Bahamas - With his hit song

I'm Gonna Wait

already climbing charts in The Bahamas, Jonathan Farrington is taking his music to the next level by signing a contract with Elevation Records. Dubbed 242's Golden Boy of Gospel, Farrington is already a familiar face with the label as he has done lead and backup vocals with the Elevation Band.

He also works closely with Elevation Productions CEO Vincent 'V-Mac' McDonald, as a judge on 242Untapped, a Bahamas-based reality show that seeks the next gospel superstar singer.


"I am very enthused and excited about signing with Elevation Records," says Farrington. "This is really a defining movement in my life and I truly feel that I have reached a point in my life where I am walking into my purpose. I was born to do this. I was created for this and I am going to give it my best."
Farrington added that he is excited about taking his music to the next level and branching beyond The Bahamas.
"This signing provides me with an opportunity to reach so many more people and establish myself in the US, Caribbean and share my music with the world," he beamed. "I see this door opening as a way to bless and inspire people in the midst of the challenges they face. I am geared towards motivating this generation."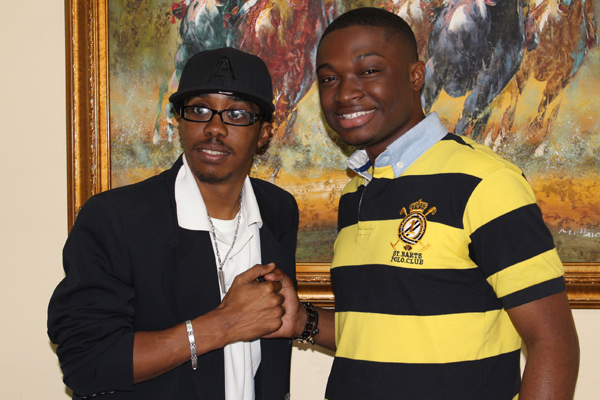 Jonathon Farrington (right) shakes on it after signing recording contract with Vincent 'V-Mac' McDonald's Elevation Records.


It's been a whirlwind couple of months for the singer known as Jonny. He's still being recognized as the overall spokesmodel winner for local telephone company BTC and is the newest 'it boy' on the gospel scene having sang with the award-winning Shaback and backing up Damita on her visit to The Bahamas. He also performed as a part of the ensemble backing up BeBe Winans in his tribute to Sir Sidney Poitier. The legendary Oscar winner is a Bahamian who was recently received several accolades in his native country including having a bridge named for him.

For his 23rd birthday last month, Farrington, who is a graduate of C.V. Bethel High School released his music video for I'm Gonna Wait. Though delighted with the new opportunities, he admits that V-Mac has been putting him to work in studio to produce his full length project.

"I've been working [with V-Mac] before I got signed but now that the ink is dry, I am seeing things from a different perspective," said Farrington. "We are in this full force and I'm excited."