From:TheBahamasWeekly.com


Entertainment
(AUDIO) Interview with Roger Thomas of Naturally 7
By The Bahamas Weekly News Team
Apr 11, 2010 - 12:34:02 PM

Interview With Roger Thomas - Leader of Naturally 7

The Bahamas Weekly presents the first in a series of interviews with Naturally 7 band leader Roger Thomas on tour as he elaborates on their up coming May 1st concert on Grand Bahama Island and their youth workshop on May 2nd at the Bishop Michael Eldon Auditorium.

In this streaming audio interview Roger expresses the group's excitement about coming to Grand Bahama Island to do their first ever Bahamas concert, fresh off of their world tour with Michael Buble'. He also discusses at length what Vocal-Play is and the difference between Vocal-Play and A Capella. He also presents the compelling story of how Naturally 7 came into being complete with inspiration.

The Naturally 7 concert and Workshop will take place May 1st and 2nd respectively and is being presented by The Grand Bahama Performing Arts Society in conjunction with The Harnisch Family Philanthropies.

Tickets are now available at all outlets: The Seventeen Shop, Gizmos and Gadgets and Island Java. The community is encouraged to buy tickets early. P referred seating and parking tickets are offered at $45 each. Only 200 preferred seats are availablet. General Seating is $25 and students $18.

Discounted hotel rates at Pelican Bay are available for out-of-town audience members. Call Pelican Bay at Lucaya and ask for the 'Naturally 7 Rate'.

Watch a TV Commercial on the upcoming event!

"The Performing Arts Society is absolutely thrilled to be able to bring such a unique, exciting and talented group of performers to Grand Bahama," said Dalia Feldman, Founder of the Society.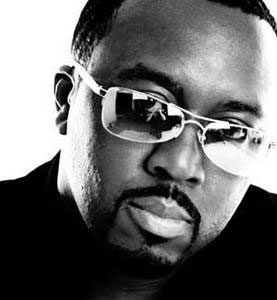 "The Naturally 7 concert and workshop have been in the works for over a year, after a video of a live performance of theirs was emailed to me by a committee member. At that time, N7 was a huge hit in Europe, but had just started to gain recognition in North America. Now, after a tour of the US and Canada, and performances in Vancouver at the Winter Olympics, they are in the midst a world tour with Michael Buble. What a thrill it will be to have them here on Grand Bahama!

"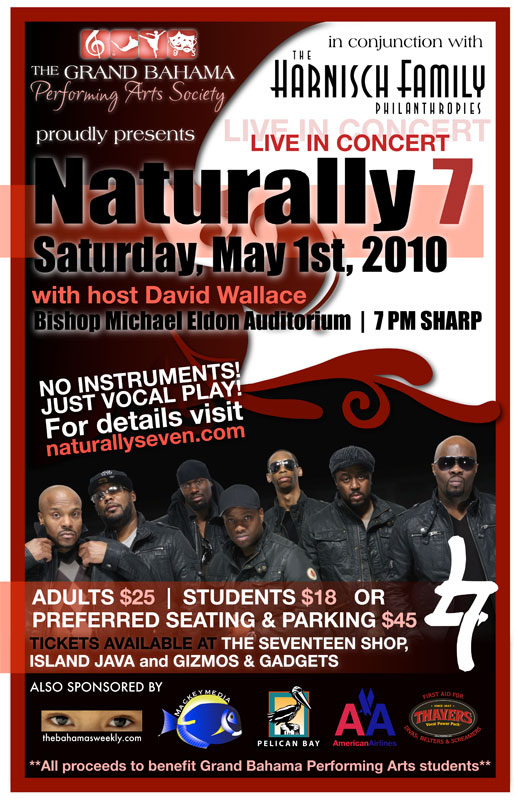 In addition, the members of Naturally 7 will be hosting a

workshop for high school students on Sunday, May 2nd at 4pm

. This workshop is for kids

ages 12 to 18.

If you have a child who is interested in attending, they should contact their school's music teacher to find out how. Space is limited, so act fast!


© Copyright 2010 by thebahamasweekly.com -