From:TheBahamasWeekly.com


Entertainment
It's Festival Noel Time Grand Bahama!
By Kenton Pinder
Nov 7, 2007 - 5:50:42 PM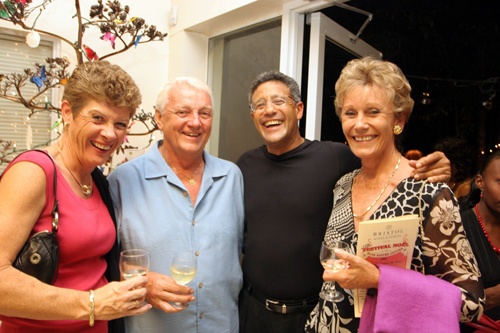 Having Fun at last years Festival Noel - Pictured are (left to right) Mr. & Mrs. Len Hindley, local Attorney Fred Smith and Toni Crane having a good time at last years sold out Festival Noel in Grand Bahama.(Photo courtesy of Keen i Media)


Freeport, Grand Bahama – Oh yes, as the time gets closer and closer to the most wonderful time of the year for all of mankind, those in Grand Bahama have just a little bit more to look forward to because it's not only the most wonderful time of the year for us, but also the Festival Noel time of year. The annual event which is put together by the Grand Bahama branch of The Bahamas National Trust and sponsored by Bristol Wines and Spirits is scheduled this year for December 7th, 2007 and will be held at The Rand Nature Centre.

This year's event will mark the thirteenth time that the Grand Bahama branch of the Bahamas National Trust has put on this event and each year has made it one of the most successful annual events that Grand Bahama has seen. "We have a lot to live up to," said New GB BNT Regional Branch President, Mrs. Karin Sanchez , who is also Chairman of the event, "we started meeting in early September and the plans are well on the way and we really want to impress this year."

Bristol Wines and Spirits are back in full support of the festival, which is going to delight the discerning wine consumers, as they will again showcase over thirty varieties of exquisite wines and champagnes. Bristol also plans to bring back the very popular Bacardi Mojito, which was one of the more popular additions of last year's event. "We are already choosing our wines now for the night," said Robbie Butler, Bristol Wines and Spirits Sales Manager, "and the success of the mojito bar may cause us to bring a few more surprises – but you will have to venture into the event to find these."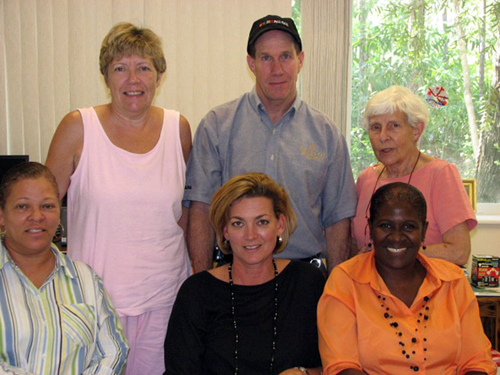 Festival Noel Committee 2007: Getting ready for Festival Noel 2007 in Grand Bahama are (left to right,top row) Judy Zuber, GB BNT Member, Robbie Butler, Sales Manger Bristol Wines and Spirits, Carolyn Milighan, GB BNT Member, (left to right, seated) Ceciia Bodie, GB BNT Administrator and Education Specialist, Sarah Kirkby, Event Coordinator Barefoot Marketing and Lana Smith, GB BNT Office Manager, missing are Karin Sanchez, GB BNT President, Barbara Stollery, GB BNT Secretary and Kenton Pinder, Event Coordinator from Barefoot Marketing. (Photo courtesy of Barefoot Marketing)
Artists from all over Grand Bahama, New Providence and the Abacos will be showcasing their talents too and the special featured guest artist this year is not one but three! Under the theme, "Our Natural World" this trio of 2 photographers and one artist are Nassau based and will showcase real nature as their art muses. "We are very excited about this team of artists, we are particularly pleased they will be showcasing nature as their backdrop." noted Mrs. Sanchez.
And what is shaping to be real competition each year and really gets the taste buds going, the annual Chef Noel Competition is back on. This year local restaurants on the island will battle to dethrone "The Harbour Room" who were the winners of last year's competition. So you will definitely need to bring your appetites as the competition is already heating up as both The Ferry House and new restaurant Sabor have already entered the competition.
With all of this art, drinks, food and the wonderful entertainment of Shelly Carey, what more is there? Oh yeah…Tickets! "We plan to have tickets out to our ticket locations next week," said Cecilia Bodie, BNT Administrator and Education Specialist "we also have some good news, ticket prices will not change this year and Bahamas National Trust members will get a $5 discount when purchased here from us at the Rand Nature Centre."
The committee will now be meeting weekly to finalize all the details and to begin hanging the thousands of fairy lights that will decorate the botanical Rand Nature Centre. For those who need to know more please contact the centre at 352-5438. Tickets can be purchased from Bristol Wines and Spirits as well as directly from The Rand Nature Centre and are $50 if purchased in advance and $55 the day of. The committee also wants to remind patrons that Festival Noel will take place on the first Friday of December, which is the 7th of this year. So mark your calendars, put on your nicest outfit and flat shoes for the 13th Annual Festival Noel 2007.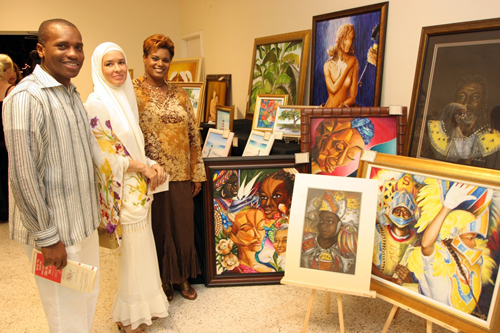 Festival Noel features local art work, wine and delicious foods all in one location and all to benefit the local Grand Bahama branch of the Bahamas National Trust. This years event is planned for December 7th and is sponsored by Bristol Wines and Spirits and cosponsored by John Bull, Cool 96, Parfum de Paris and Ginn Sur Mer. Pictured at last years sold out event are Mr. & Mrs. Brent Ingraham viewing local artist Mrs. Robinson's work. Over ten artist have already signed up or this years event and returning Chef Noel champion, The Harbour Room, are all ready to challenge Sabor, The Ferry House and Bikini Bottoms for Chef Noel 2007 (Photo courtesy of Keen i Media)


© Copyright 2007 by thebahamasweekly.com -