From:TheBahamasWeekly.com


Bahamas Weather
6am News Item on Hurricane Delta
By Bahamas Department of Meteorology
Oct 9, 2020 - 7:47:56 AM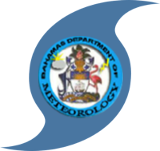 NEWS ITEM
NEWS ITEM ON HURRICANE DELTA ISSUED BY THE BAHAMAS DEPARTMENT OF METEOROLOGY FORECAST OFFICE SECTION, AT 6:00 AM FRIDAY 09TH, OCTOBER 2020.

…MAJOR HURRICANE DELTA HEADED TOWARD SOUTHWESTERN LOUISIANA

… AT 4:00 AM CDT, THE CENTER OF HURRICANE DELTA WAS LOCATED NEAR LATITUDE 26.9° NORTH AND LONGITUDE 93.7° WEST OR ABOUT 200 MILES SOUTH OF CAMERON LOUISIANA.

DELTA IS MOVING TOWARD THE NORTH AT 12 MILES PER HOUR. ON THE FORECAST TRACK, THE CENTER OF DELTA WILL MOVE INLAND WITHIN THE HURRICANE WARNING AREA THIS EVENING.

MAXIMUM SUSTAINED WINDS ARE NEAR 120 MILES PER HOUR WITH HIGHER GUSTS. DELTA IS A CATEGORY 3 HURRICANE ON THE SAFFIR-SIMPSON HURRICANE WIND SCALE. THE NEXT NEWS ITEM WILL BE ISSUED AT 12:00 PM PREPARED BY FORECASTER: ANASTASHIA FERNANDER 09/10/2020 09:00 UTC


© Copyright 2020 by thebahamasweekly.com -