From:TheBahamasWeekly.com


Let's Grow Bahamas
Bananas: The Super Fruit that is an Absolute Must for Your Garden
By Luckner Timothee
Nov 22, 2012 - 10:12:03 PM


The banana is one of many favorite plants which I have in my backyard, and believe me when I tell you that I have spent quite a few dollars acquiring those banana herbs.

Aside from being a favorite in food stores, bananas have quite a few medicinal values as well. Bahamian folk have used banana leaves mixed with other ingredients to treat blisters, diarrhea and fever. Bananas are also great as organic matter for the garden.

Bananas grow year round in The Bahamas, and you really can't go wrong with bananas. Regardless of where you are located in the world, you can find bananas in your local supermarket or corner store. With almost 1000 different varieties, it's no wonder that people have fallen for them, although most people have only tasted 1 or 2 varieties at best.

On more than a few occasions I have asked people in stores if they have ever tasted the "Gros Michel," but most people don't know what it was, and if I were to show them one they probably have never seen it before either. Like the Grand naine/ Cavendish or Chiquita (as most people like to call them) bananas didn't come to the market until the 1960's because of the Panama Disease. (This is the fuel behind the writing of this article, to give an insight on the origin of, and what we're doing right and wrong with the banana today.)

If you're a home owner here in The Bahamas, I think a "banana sucker" is something you should invest in. First, they multiply. I have banana herbs (they are called banana herbs because they do not have the woody tissues of trees) in our backyard and after they bear fruit (we may get roughly around 3 or 4 suckers) we cut them and use its clone to continue the next generation of bananas.

I can't begin to tell you how much of a profitable investment this one small herb has been since my mother bought and planted it a few years ago. I have bananas growing on at least 3-4 herbs/plants throughout our backyards that I've distributed amongst family and friends.

Bananas are classed as a "Super Food?" Why? Well aside from the creamy and sweet flavor, they are a great source of potassium. Potassium in bananas stimulates your muscles and brain; this might be the reason why athletes are told to eat a banana before they head out on the field. Bananas support your immune system, strengthen your bones, control your blood pressure and they are a great natural source of energy. The great thing about bananas is that they can take full sunlight and still survive, so our climate is ideal for them.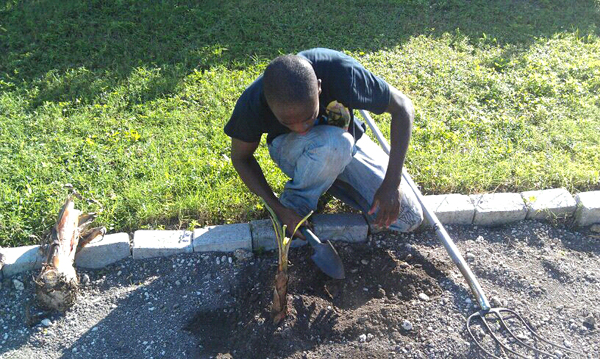 Gardener and article author, Luckner Timothee in his garden in Grand Bahama


The origin of the banana is thought to be in Malaysia with a move across to India and the Philippines, but the first record of bananas was by Alexander the Great in 327 B.C. Then it traveled to Africa and was brought to America and the new world by a European explorer in 1492.

During those first years bananas were only enjoyed by people that lived on the coastlines in America, because they wouldn't have lasted the long voyage inland. They invention of cars and trains completely changed the journey of bananas.

From that point on, bananas became very popular and were enjoyed mostly everywhere, but not the variety you see today. There was another banana called the Gros Michel and it was the most popular banana in the world, due to its ability to be stored longer than other cultivars, so businesses preferred them. The Panama Disease nearly wiped the Gros Michel out and almost bankrupted farmers, which resulted in the more popular banana the Grand Naine we see on the shelves today.

Aside from bananas being such a tasty fruit, scientists around the world are using them for research to help rural areas in places like Uganda to create fuel. In 2009, scientists from the University of Nottingham found a way to use banana briquettes as fuel for cooking and heating. The idea is to teach it to the more poverty stricken regions in Africa thereby enabling the less fortunate that aren't able to afford fuel to create their own from biodegradable waste.


Also, In August of this year at the 244th National Meeting & Exposition of the American Chemical Society that took place in Philadelphia, scientists from the Tianjin University of Science and Technology in China spoke about tests that were being conducted on bananas to slow the ripening process. The basic idea is to create a spray that when applied, kills the bacteria that rapidly ripens the fruit, a development of this kind could save the industry billions of dollars. Leading Scientist Xihong Li said that they found that while spraying green bananas with chitosan aerogel they were able to keep bananas green for up to 12 days. The spray would be used mostly by Supermarkets, home consumers and during the shipping process of bananas. This substance could completely change what we know as the banana today, hence another reason why growing your own.

The European Union is funding a scheme named "The Banana Project" in Belfast, conducted by the Polymer Processing Research Centre in Queen's School of Mechanical and Aerospace Engineering. They are in the process of testing the banana herb to make plastic.

Keep in mind that not all of the banana herb will be used as raw material to make plastic, the idea is to mould the herb between two plastics since after the fruit has been cut, the rest is just discarded as waste. What a wonderful idea when it comes to dealing with waste. This idea would bring great profit to the banana industry and would secure more jobs around the world on banana plantations. The plastic would be used to make ships, traffic cones, plastic dolls and many other items that are plastic.

There are even tests being done on altering banana genes to fight one of the most devastating diseases of the banana herb, "The BXW" (Banana Xanthomonas Wilt) from causing farmers millions each year. This disease first came about in a plant called "Enstete" forty years ago, and has since spread to bananas across the world and cost banana plantations in Africa about 500 million in losses. The idea basically is to take the gene from the sweet pepper to strengthen the banana herb from the BXW disease.


With all this research being done about bananas it makes me wonder why Bahamians haven't invested in them as a business. Bananas are a common fruit here on the island that Bahamians has been enjoying throughout the years.

Anyone can see this just by taking a drive through Grand Bahama, you can see that Bananas of all sorts from sugar bananas, Cavendish, Charleston and the Grand Naine; there may be more but these are the more common ones I encounter in people's backyards.

As for farming purposes, we have not invested in bananas that much to make a sustainable profit as a country. The UN has been investing millions of dollars; I can't see why we can't be one of the countries in which that is being done. In 2006 bananas were ranked number two on the twenty most profitable crops grown locally, second only to avocado. Bananas were ranked number 24 on the list of crops that have the potential of being a million dollar investment crop. It has the net return of approximately 2.5 million each year and that is set to rise judging by the way food prices are going up around the world.

I think it is well enough time that we take the mantle and move forward in our agriculture initiative, and bananas is one such crop that can begin that path to food independence.



About the Author: Luckner Timothee is a backyard Farmer in Grand Bahama since starting his garden a few years ago he has wooed his friends with his produce and creative farming ideas. He continually learns from his friends and family about the process of farming and the struggles that a farmer goes through daily. He is now working on a Web show called "Let's Grow Bahamas" to be released on "Grand Bahama Backyard Farmers". He is attending seminars in order to meet other farmers around the world and to further his knowledge about Farming. To contact Luckner Timothee email him at: bahamasfarmers@live.com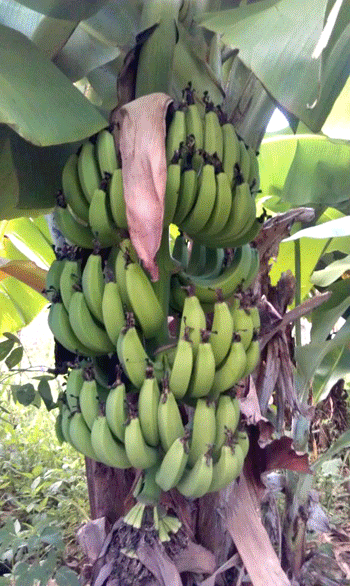 © Copyright 2012 by thebahamasweekly.com -