From:TheBahamasWeekly.com


Let's Grow Bahamas
Far from your average Grower!
By Luckner Timothee
Jan 10, 2014 - 3:01:35 AM




The Backyard Gardner, Luckner Timothee


Have you ever walked into someone's garden and there were so many beautiful crops, so much so, you wondered how someone could maintain such a garden? And became ever so curious when you see that same person eats only salads or the occasional soup? You may have wondered, what's the use? Well don't worry I encounter that daily and I am in fact trying to change people's mindset on the conventional use of a garden.

I believe if a grower plants a tomato seed and gets a tomato vine and only thinks of it as 'just tomatoes' then he will only eat tomatoes. Frankly I couldn't eat something that the Divine Mother has created, and not add a piece of myself to complement something so spectacular. Gardening to me is on so many levels especially when you're growing food for your personal consumption.

In 2014 I will mix it up a bit. I plan to talk about it from many angles. Backyard farming is a lifestyle and since a picture tells a thousand words I will let you to be the judge of how my kitchen table looks every day.

The time when backyard farmers grew food just for survival is over. Growers today must be on a whole other level than that of just farming. You can't inspire people to grow/ cook or drink Bush medicine if it isn't appealing to the eyes and I think that has always been the biggest disconnect to farming.

I whole heartily agree that a tomato grown in a garden tastes far better than the ones you buy in store for various reasons I won't get into today. What you do with that spectacular flavor is what makes us stand out. I cannot eat cherry tomatoes for 5 months the same way. It's just too boring for a free spirit like me, and there is no way I can eat boiled cabbages and a tomato salad everyday. If that was the case I would always go to the food store or eat out like everyone else.

The fact is, when my season is prepped, and my 35 beds are set with crops that are some of the best on the planet, I must then begin to cook meals that are to me on those same standards.

I am far from the direct example of great eating habits, but when I speak to someone about changing their eating habits I don't show them the usual mundane meals of salad, tomatoes and onions because people love diversity. I show them famosa cabbages, black tomatoes, chives, cherry tomatoes, black beauty egg plants, radishes, dragon carrots, collard greens, mints and an array of basil, beets, sweet potatoes, cassavas just to name a few. I then prep my meals with so much care that my friends and family tongues get wet with excitement.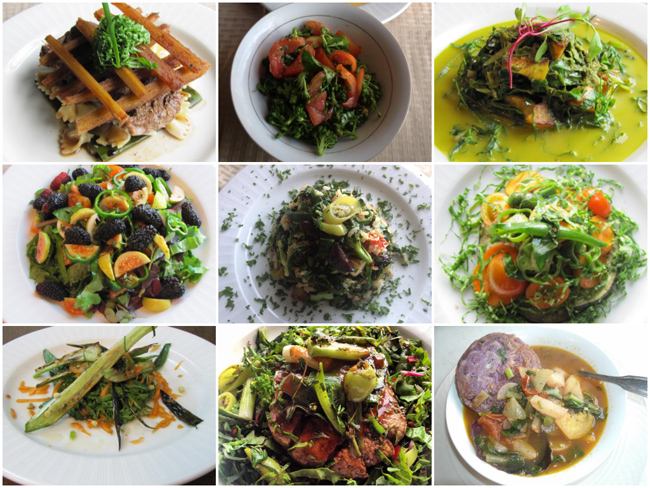 From my garden and kitchen!


If the everyday man or woman were to return to the garden it has to have some appeal, it has to be so enticing that the first glance at food grown from a garden will drive them to create a garden. If they are looking for a reason to do so, there are too many to write here but here are just a few…..

1.'Nurtrition' many farmers and now nutritionist are telling people to buy organic foods but fact is the food grown from our backyard are 100X more nutritionist than industrial Organic Food.

2. Save Money. Last year I might have visited the grocery store 5 times, and only to spend no more than 20 dollars.

3. Saving the Future of our Agriculture System: By farming and posting information on this lifestyle online, I have had people from ever sector of government visit my garden. They come for advice and to learn some of the methods I use. Therefore I am teaching the next generation by the people I interact with daily. It might not be noticed by many, but these exchanges are going to make profound impact on the next generation.

4. Helped bring back my community. In the last 10 years Pinder's Point was a community that nobody in the town area wanted to visit. Now it is a piece of Grand Bahama that people are visiting from around the world to see my garden. I express my passion for my garden everyday and I make it relatable compared to most, so people want to experience that themselves.

5. It has mature me pass my years, and not only in my garden, but as a well-rounded individual. I know that it is only because of my gardening and digging in the soil, and connecting with it that has brought me profound individuality, and a strong sense of self.


As gardeners we have to approach food differently and we must teach the new generation about food. Natural foods, and not the processed foods that have left our kids malnourished for the past 20 or so years. It's okay to enjoy processed foods as snacks every so often, but we should limit the consumption. This would drastically change our health and allow us to live better lives. Teaching kids to fast and learn about juicing cleanses with some of our traditional medicine, are all methods that can make a great impact on our lives.

It is essential this generation makes an impact on the next generation, and we do so before it's too late. I thank the divine Creator in mediation daily that he has set me in motion to learn the art of cooking at 15 years of age, and I am honoured to have spent about 10 years under the guidance of some of the toughest Bahamians cooks. They have taught me plenty and it's those skills I use to cook my meals every morning.

In conclusion I leave you with a small section of one of my gardens, the way it looks today and some of my favorite cooked meals that I create in my basic kitchen. Keep in mind that all of these meals are of my own creation; some good, some bad, well maybe the bush medicines are bad because of taste, but nonetheless they are healthy nutritionist foods and drinks I consume daily. All are healthy meals grown locally from my backyard with an occasional crop someone gifts me. It isn't so difficult that you couldn't do the same.

If you think that growing and cooking don't go hand-in-hand, remember that the food industry is spending billions of dollars each year to control our kids tastes, and their intentions are not all good. They have hidden some of the most deadliest poisons on the planet with words masking to create confusion, and only a few people can decipher their true meaning.

I grow and eat food the way my ancestors did and labor with those crops carefully watching over everything I do with care so from my garden and kitchen, I expect only the best to come from it. I see myself doing this until I am in my late 90's, and when I do have a child one day there will be no company or industry that can contradict my teachings to my child, and hopefully that child will take the basics of what I have taught him/her and set the standard for the New Generation on what it means to truly eat healthy.


About the Author: Luckner Timothee is a backyard Farmer in Grand Bahama since starting his garden a few years ago he has wooed his friends with his produce and creative farming ideas. He continually learns from his friends and family about the process of farming and the struggles that a farmer goes through daily. He is now working on a Web show called "Let's Grow Bahamas" to be released on "Grand Bahama Backyard Farmers". He is attending seminars in order to meet other farmers around the world and to further his knowledge about Farming. To contact Luckner Timothee email him at: bahamasfarmers@live.com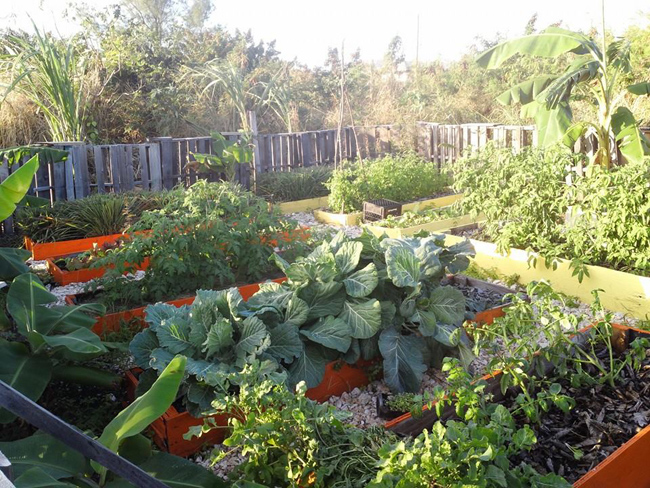 © Copyright 2014 by thebahamasweekly.com -