Last Updated:

Jan 7, 2018 - 7:32:21 AM
---
RBPF Grand Bahama: Police investigating a shooting incident that has left a male dead - Industrial Accident


By Terecita Pinder, RBPF
Jan 7, 2018 - 7:20:32 AM


Email this article
Mobile friendly page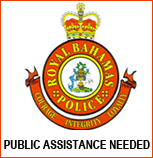 Homicide – Grand Bahama

Freeport, Grand Bahama - Police in Grand Bahama are also investigating a shooting incident that has left a male dead.

Reports are that on Saturday 6th January 2018 shortly after 11:00pm, police were called to a Shopping Plaza on Sea Horse Road where a male was shot several times about the body. EMS personnel were called to the scene and pronounced that there were no signs of life. Two males are in police custody and are assisting police with their investigation into this matter. Police are actively investigating.



Industrial Accident – Grand Bahama



Police in Grand Bahama are investigating an apparent industrial accident that has left a male hospitalized in serious condition.

Reports are that on Saturday 6th January 2018, shortly before 11:00pm, police and EMS personnel were called to a business establishment on West Atlantic Drive where a male reportedly fell of a scaffold. He is listed in serious condition at the Rand Memorial Hospital. Police are actively investigating this matter.

POLICE ARE APPEALING TO THE PUBLIC TO SHARE INFORMATION ON ANY ILLEGAL/SUSPICIOUS ACTIVITIES IN THEIR COMMUNITIES, NO MATTER HOW SMALL OR INSIGNIFICANT (THE TIP) MAY SEEM, MEMBERS OF THE PUBLIC ARE URGED TO ANONYMOUSLY CONTACT THE POLICE AT 919 OR CRIME STOPPERS AT 328-TIPS (8477) (NEW PROVIDENCE) OR 1-242-300-8477 (FAMILY ISLANDS)

PREVENTION CRIME TIP – Credit card fraud protection tips

Here are some tips on how to prevent credit and debit card fraud.


Don't give your account number to anyone on the phone unless you've made the call.
Carry your cards separately from your wallet. It can minimize your losses if someone steals your wallet or purse.
During a transaction, keep your eye on your card. Make sure you get it back before you walk away.
Open your bills promptly — or check them online often — and reconcile them with purchases.
Report any questionable charges to the card issuer.
Notify your card issuer if your address changes or if you will be traveling.
Don't write your account number on the outside of an envelope.
Clear your logins and passwords. This is especially important if you've been working on a public computer.
Be alert for phishing, a trick in which spam or pop-ups mimic legitimate banks or businesses to obtain your personal information, which they use to access your accounts. Always verify that you're on a familiar Web site with security controls before entering personal data.





© Copyright 2018 by thebahamasweekly.com

Top of Page