Last Updated:

Feb 6, 2017 - 2:32:04 PM
---
Freeport, Grand Bahama - Cable Bahamas Ltd just opened its new state-of-the-art data centre on Grand Bahama, the first of its kind on the island. The facility, located in the heart of Freeport, complements Cable Bahamas' existing data centre located at the Robinson Road complex in Nassau.


The Grand Bahama Data Centre provides hosting facilities for clients as well as disaster recovery and business continuity services. Attracting clients from the financial services industry, as well as government and private enterprises, clients welcome the new data centre as it now gives them geographic diversity within The Bahamas.

With data centres in New Providence and Grand Bahama, businesses based on each island can locate their backup servers and data storage on the other island. A natural disaster threatening their home base operation is unlikely to affect the backup systems located at the data centre on the other island.


Even though the data centres are more than 120 miles apart, they are connected by
Cable Bahamas' own all-fibre optic data network. This eliminates latency issues and allows companies to quickly and transparently switch to the alternate site should it become necessary.

As Cable Bahamas owns and operates its own sub-sea fibre system, within The Bahamas and extending to the United States, high-speed connectivity up to OC-48 speeds for offshore clients and up to 10Gb/s for onshore clients provides the unmatched reliability and security that the company's clients demand. The Grand Bahama Data Centre provides 24x7 availability and the safe physical environment for mission critical data applications.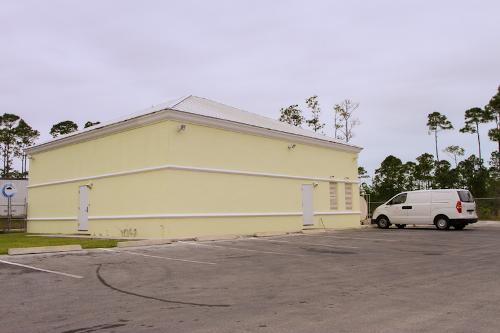 Commercial Sales Director Andre Knowles said, "I am pleased to be a part of this historic event, where we can provide a facility of this kind to our offshore and onshore clients."

Mr Knowles said that a data centre of this kind actually protects a business' ability to continue their operation when disasters strike. "A business with online operations and vital data processing needs -- which are most businesses today -- cannot afford any downtime. Our two data centres virtually eliminate downtime," Knowles said.

The data centre facilities are housed within a secure, concrete and steel structure. It is supported by dual UPS (uninterruptable power supply) systems, as well as backup generators, redundant water-chilled air handling systems, and smoke and fire suppression systems.

Operations Manager of the Cable Bahamas Freeport office Edris Wilson stated, "We are delighted that a data centre of this kind is on the island of Grand Bahama. With its state-of-the-art design and infrastructure, our clients can feel safe and secure."





© Copyright 2013 by thebahamasweekly.com

Top of Page