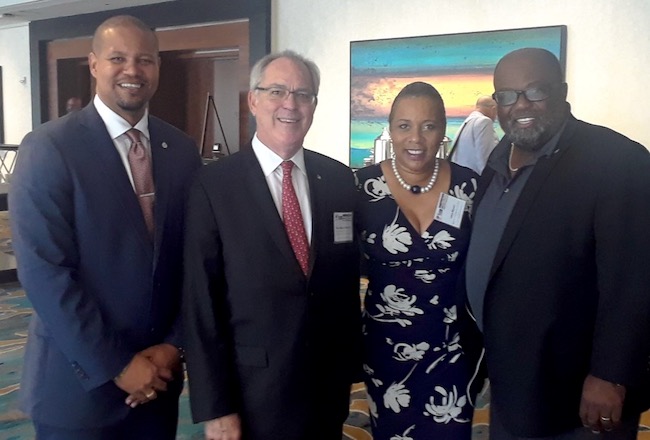 Friday, 11th May, 2018 – Freeport Bahamas -

Grand Bahama is gaining positive traction as a competitive jurisdiction, as both government and the 'Port' take a collaborative approach to promoting the destination. The Hon. Brent Symonette, Minister of Financial Services, Trade, Industry and Immigration brought noteworthy attention to the country's industrial capital during his remarks at the Opportunities in the Caribbean Region Trade Conference (OCRTC) earlier this week, in Miami, Florida.

Describing Freeport as "the country's industrial and commercial shipping hub," Minister Symonette provided conference attendees with a vivid description of the city's major benefits as the Free Trade Zone of The Bahamas, and why it continues to advance as a major shipping hub and international business centre, just 68 miles from Florida.

"More than 60 years ago, the city of Freeport was created by Charter of the 1955 Hawksbill Creek Agreement, when The Grand Bahama Port Authority, Limited (GBPA), established the infrastructure for world-class services and facilities in a 230-square-mile economic zone, offering both an exceptional climate for business, private investment and unsurpassed quality of life," stated Symonette. "Today, Freeport offers the discerning investor guaranteed long-term tax concessions and benefits for financial, commercial and industrial enterprises within this unique economic trade zone, that are superior to anywhere else in the region," Minister Symonette continued.

The OCRTC event comes on the heels of a recent Trade Mission to Washington DC, another Government/GBPA initiative, hosted in late March. The three-day event featured key opportunities for networking, addressing critical issues impacting US Trade, as well as regional opportunities that support competitiveness for US businesses.

GBPA's representative, Derek Newbold – Sr. Manager of Business Development and Invest Grand Bahama, explained that the unified approach to investment promotion could only bode well for Freeport, Grand Bahama, positioning the nation's second city as a major regional competitor for investment.

"Grand Bahama has significant competitive advantages," cited Newbold. "It's value proposition supports a wide range of economic sectors, including ICT & Tech-related industries, manufacturing and value addition, alternative healthcare services, and shipping & logistics, etc. Grand Bahama's infrastructure (both hard and soft), proximity and cultural affinity to the US market are complemented by a tax friendly environment and excellent quality of life. When you combine these features with a skilled workforce, efficient processes and ease of doing business, one begins to see what key investors in Freeport have understood for decades." Newbold added,

"Joining forces with the Ministry of Financial Services, & Immigration and The Bahamas Consulate Team in Miami to represent Grand Bahama at this event was a welcomed opportunity for GBPA; we believe that cooperative initiatives such as this, helps to position Freeport and Grand Bahama as relevant contenders across the competitive landscape regionally."

Other jurisdictions taking advantage of the face-to-face opportunity to promote investments within their respective countries, included Jamaica, St. Lucia, Cayman, Barbados, Haiti and several others.

"Public Private Partnerships will be essential as we create a new narrative for Grand Bahama" expressed Ian Rolle, GBPA President. "Freeport's success will have a positive impact on the entire country, and we are beginning to see positive traction in terms of investment interest in Freeport once again. The recent branding of Grand Bahama as the tech hub of The Bahamas will serve to strengthen our position as regional leaders within the digital space. We applaud government's efforts and are keen to work even more closely with them to help shape an environment that supports this innovative approach to advancing Grand Bahama regionally and globally," Rolle concluded.