From:TheBahamasWeekly.com


Grand Bahama
UNEXSO Hosts Protect The Sharks Foundation
Jan 20, 2009 - 9:55:03 PM



Grand Bahama Island - UNEXSO was pleased to host for a second time Protect The Sharks Foundation which is a non – profit organization based in Holland. The Protect the Sharks Foundation is trying to convince people how important it is to save sharks and in particular stop shark finning. With this in mind Geert Droppers the founder is producing educational films aimed at showing the beauty of the shark and dispelling all the myths about "that dangerous monster."

Last year on his first visit to UNEXSO he filmed a documentary "Gimme A Hug" with Cristina Zenato, UNEXSO Diving Supervisor and Dive Instructor who is recognized as a Shark Dive professional. It is a short film aimed to create awareness and a better understanding of this misunderstood animal. It is being distributed world wide and has already received outstanding reviews at film festivals in Europe.

This year Geert returned to UNEXSO to dive with Cristina and show the beauty of the local Caribbean reef sharks and further develop "Gimme A Hug" for release in Asia. The film will highlight that there is no need for the mass slaughter of sharks for their fins in an area of the world where Shark fin soup is a delicacy. The group was joined by 12th Grade Marine Science students from St. Georges High School together with their teacher Andy Loveitt. They were interviewed and then participated on a shark feed under the watchful eye of Christina and Andy.

As a result of the student participation the Protect The Shark Foundation want to produce a film for the people of The Bahamas showing how living sharks can be used as a valuable resource to create tourist revenue for our islands.

The Foundation will return to UNEXSO in the near future and have asked Jillian Russell to narrate the film and then promote it to students around the islands to raise the awareness of the nation's youth and then to the wider Bahamian public in general. Jillian is Head Girl of St Georges High School, studies Marine Science and has a passion for protecting our natural marine resources particularly our sharks.

Andy Loveitt, instructor at St. George's explains more about how his students were able to participate in this opportunity:

"St Georges have had a Scuba Diving programme at UNEXSO since 1996. The students have one day a week at UNEXSO from grade 10 through 12."

"UNEXSO needs to receive great credit for offering their facility to St Georges. Without UNEXSO'S help many students would never have this opportunity. Some students on graduating stay with UNEXSO and are employed in all areas of the company. Other students have gone on to college while others work in Nassau following their passion for the marine environment."

"Cristina asked me to take part in the current film and on meeting Geert Droppers he quickly realized the benefits to his foundation and The Bahamas of including my students for future projects, " said Loveitt.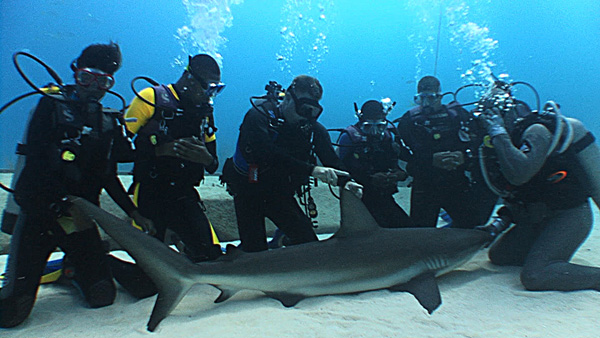 Jillian Russell, Tamar Pinder, Andy Loveitt (teacher), Whitney Bain, Andrew Johnson, Astassia Knowles (hidden), Cristina Zenato (UNEXSO shark specialist) with Hook (named by Jillian) Photo: Geert Droppers Video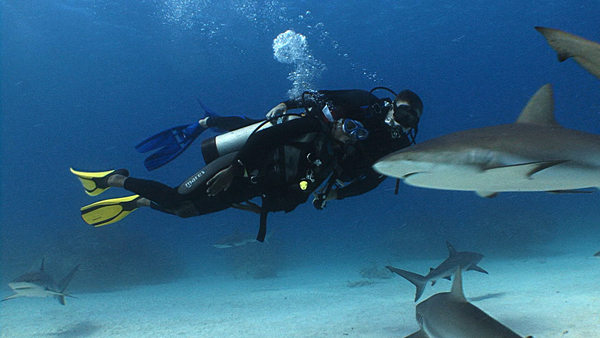 Jillian and Andy Photo: Geert Droppers video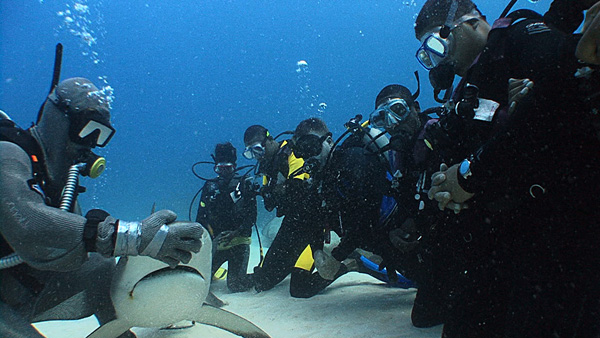 Twelfth grade Marine Science students from St. Georges High School are pictured getting an up close first-hand lesson in shark anatomy from instructor Andy Loveitt and instrutor Cristina Zenato which will be featured in a documentary by Geert Droppers founder of Protect the Sharks Foundation. Jillian, Tamar, Andy, Whitney, Andrew and Cristina with the shark Jillian has named Hook. Photo: Geert Droppers video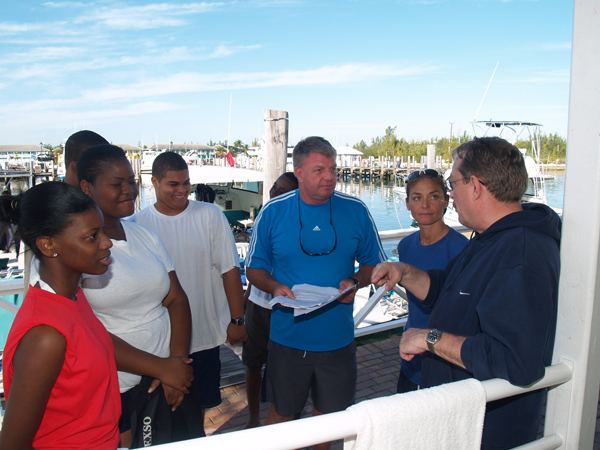 Jillian, Astassia, Andrew, Andy, Cristina and Geert. Photo: Jenneva Russell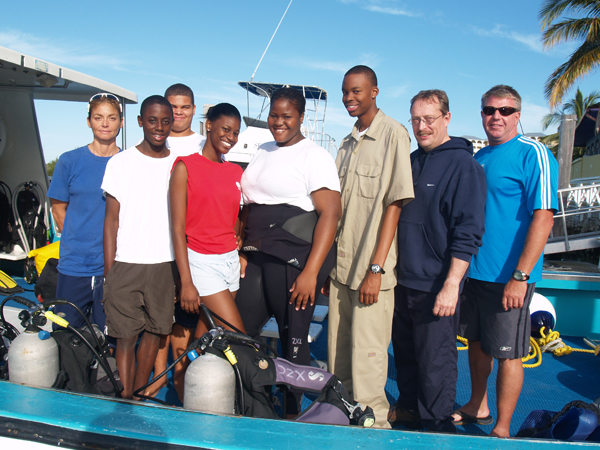 Twelfth grade Marine Science students from St. Georges High School will be featured in a dicumentary about protecting sharks filmed In Grand Bahama recently by Dutch film-maker and producer Geert Droppers, founder of Protect the Sharks Foundation and UNEXSO. Pictured from left are dive instructor Christina Zenato, Whitney Bain Andrew Johnson, Jillian Russell Astarcia Knowles Tamar Pinder, Droppers and Andy Loveitt, instructor. Photo: Jenneva Russell


© Copyright 2009 by thebahamasweekly.com -