From:TheBahamasWeekly.com


Grand Bahama
U.S. Coast Guard, DEA Partners with the RBPF to Conduct Search and Rescue and Maritime Exercises on Grand Bahama
By US Embassy
Aug 21, 2013 - 5:13:04 PM




Representatives from the RBPF Marine Unit, the USCG and DEA participate in joint law enforcement exchange on Grand Bahama.


Freeport, Bahamas - U.S. Coast Guard (USCG) Cutter Cormorant, an 87 foot coastal patrol boat based out of Ft. Pierce, Florida, visited Freeport this past weekend to participate in two international exchanges between the United States and The Bahamas. The first engagement on Saturday, August 17th, involved a joint search and rescue (SAR) exercise with Bahamas Air-Sea Rescue Association (BASRA). The second exercise on Sunday, August 18th, focused on maritime law enforcement and included officials from the Royal Bahamas Police Force (RBPF) Marine Unit, the USCG, and the U.S. Drug Enforcement Administration (DEA).

USCGC Cormorant is assigned to Coast Guard Sector Miami and performs a myriad of law enforcement and search and rescue missions in the Florida Straits.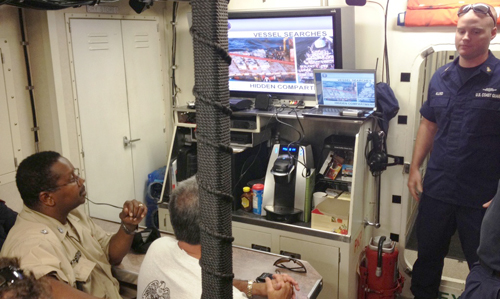 U.S. and Bahamian law enforcement officers participate in training exercises onboard the USCG Cutter Cormorant.


The search and rescue activity with BASRA coincided with their 43rd annual Bernie Butler Swim Marathon, BASRA's largest fundraiser of the year. Taking place near Freeport in waters off Coral Beach, the scenario involved the rescue of a person in the water by the cutter's small boat and the "victim's" subsequent transfer to the cutter for further care. The so-called victim was in fact Mr. Michael Malone, Vice Chairperson for BASRA's Grand Bahama chapter, who was afforded an up close and personal demonstration of USCG SAR procedures and capabilities. Since BASRA and the USCG are so closely partnered on matters concerning safety of life at sea, this engagement represented a very valuable interaction between the two organizations.

On Sunday, two RBPF Marine Unit vessels (including its newly commissioned 41 foot Apostle SAFE boat) joined the Cormorant at its berth in Freeport Harbour to participate in a joint maritime law enforcement exchange. In total, nine members of the RBPF, two DEA members and the Cormorant's crew of eleven participated in a daylong session dedicated to the exchange of information and procedures related to shipboard law enforcement tactics and techniques. Topics of discussion included methods to detect hidden compartments designed for smuggling contraband, radio communications, and proper vessel boarding and search techniques. The day's activities were viewed by all participants as incredibly beneficial and informative as well as an outstanding opportunity to get to know one another and strengthen international partnerships.

The Coast Guard, BASRA and the RBPF intend to capitalize upon the momentum generated by this past weekend's visits to plan and execute even more robust exchanges in the near future, which ultimately will serve to improve each agency's overall interoperability and responsiveness.



















© Copyright 2013 by thebahamasweekly.com -