From:TheBahamasWeekly.com


Grand Bahama
Aliv Hope Gala Ball under the patronage of Bahamas PM & Mrs. Minnis is this Saturday
By The Bahamas Weekly News Team
Oct 15, 2017 - 9:12:02 AM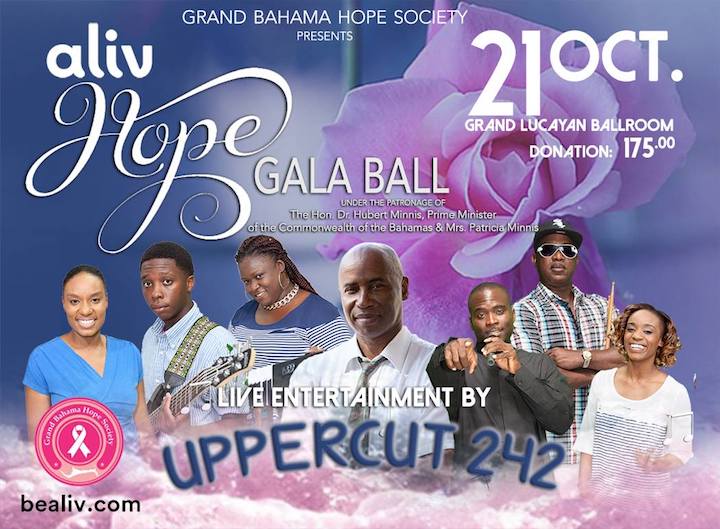 Freeport, Grand Bahama Island - This coming Saturday October 21st, 2017 you won't want to miss the Aliv Hope Gala Ball under the patronage of Prime Minister The Hon Dr. Hubert Minnis and Mrs. Patricia Minnis. The event will be hosted by Karaoke King, Demetrius and features live music by Grand Bahama's favorite multi-genre band, Uppercut 242. This gala takes place at Grand Lucayan starting with cocktails at 6:30pm and dinner at 8pm.

The Aliv Hope Gala Ball promises to be nights full of fun, laughter awesome live music and passion in support of Cancer Survivors of Grand Bahama Island. Tickets are $175 each and are available at Island Yogurt, Print Masters, Gizmos & Gadgets, any committee member or call 533-3384.

About Uppercut

Grand Bahama's ultimate high-energy band, UPPERCUT invites you to party with us! Featuring the dynamic Javan Hunt (lead vocals), bandleader David Mackey on wailing Guitars from the Grammy Nominated T-Connection band, David 'Shakey' Williams (Drums, raps and vocals), Shaquita Stubbs (keyboards and vocals), Bonzi Ferguson (Bass), Syd Collie (vocals and 2nd keyboard) and Massawe Dean (vocals and percussion).

Uppercut is 'Duckin it' and 'Taking it to the Streets' 'Rollin on a River' into the 'White Room' at 'China Grove' to see 'What Happens in The Party stays in the party' when 'I Dare you' we can eat 'Cake by the Ocean' with a 'Dancing Queen' because we're 'Phenomenal' and 'Professional' and 'That's The way it is' on 'Bahama Rock' if you 'Remember the Time' with 'Billie Jean' it's 'Human Nature' and 'It's a Pity' because we're 'Born to be Wild' and you'll have 'Wild Thoughts' with 'Love and Affection' when you 'Listen to the Music' of Grand Bahama's ultimate high-energy multi-genre band, Uppercut 242!




© Copyright 2017 by thebahamasweekly.com -