Last Updated:

Feb 6, 2017 - 2:32:04 PM
---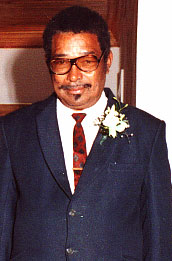 Nassau, Bahamas - Leo Carey, a prominent Nassau businessman, died at his home on Tuesday, March 8, the family announced March 12th.

Charles Leo Carey was born to William Albert and Madeline Elizabeth Carey at Tarpum Bay, Eleuthera, on Wednesday, January 22, 1930.

After completing his education at the Tarpum Bay All-age school, Leo moved to Nassau to make a livelihood for himself. With his brother, Otis, he started a store on Blue Hill Road, opposite to Dr. Claudius Walker's Reinhardt Hotel. In May, 1954, he married Dorothy Louise McCartney, and together, they raised twelve children.

In the 1960's Leo and his family built a two-storey structure on Market Street, operating the Leo's Department Store, selling groceries, dry goods and notions downstairs, and living upstairs. He constructed all of his homes, assisted by the expert craftsmen he surrounded himself with. The Malcolm Road Homestead included the children, cutting into the rock with hand tools. A man of compassion, he often opened the shop, late at night (or had one of the older children do it) to cater to a customer, who needed to feed a hungry baby. During this era, he partnered with Bert Cambridge to produce a Sunday afternoon Variety Show on ZNS. The show would feature music by Mr. Cambridge and Charlie Adamson, solos by Sidney Young and riddles by Leo Carey, with his trademark slogan, "If I een caat it, I'll cet it for you." He lived by this declaration: customers were never to be told "een none", items out of stock were purchased from neighbouring stores.

Leo showed more than a passing interest in music. Influenced, no doubt by Mr. Adamson, he took up the guitar. At one point a piano was bought, and Charles was sent to Mr. W. A. G Bain's School of music, but he deferred to the trombone and the trumpet. Michael mastered the guitar, Derek the drums, but the grand-children eclipsed them in all musical skills.

The son of a Methodist Lay Preacher, Leo preached in the Evangelistic Centre at Tarpum Bay as a young man. In Nassau, he and his family made Wesley Methodist Church their spiritual home. He often read his Bible early in the morning after opening his store, or had Charles read it to him, before going off to school. His favourite Scripture Reading was Psalm 8. During his confinement, when visitors came, they would frequently receive a pontifical blessing from him. Recently, his Sister visited and wanted to make sure he had made his peace with God. He declared: "The Lord is my Shepherd!"

Leo also networked with other businessmen in the area, including Sir Milo Butler, George Nottage, Wilfred Bowe, Herbert Minnis, and Alvin Ingraham. He was an Officer in the Bahamas Business League, and worked with Dr. Walker for the establishment of the Scottish Rite Masonic Lodge in the Bahamas. He actively supported the cause for Majority Rule by financial donations and in the campaign for Sir Arthur Foulkes in Grants Town.

He built scores of houses which were rented, primarily to young families moving to the city from the family islands. Not being afraid to get his hands dirty, he operated The Bahamas Pumping Service for many years. In the 1970's Leo decided to extend his operations by building and operating the 21-room Sir Charles Hotel on East Street South. The complex provided store space which enabled several of the children to launch their own businesses. He also helped his brother, Kenneth, and others establish enterprises. He could balance the business cheque book in his head.

Farming was the mainstay of the Allen Clan, of Tarpum Bay for centuries. They cultivated pineapples and tomatoes on over five hundred acres of farmland on the islands of Eleuthera and Cat Island. A farmer at heart, Leo always had agricultural projects in play. He produced tomatoes, raised chickens, pigs, goats, cows and sheep. The two-acre family estate on Malcolm Road was planted with fruit trees. He was also an avid fisherman.

About fifteen years ago, Leo was hospitalized for about six months, and diagnosed with an aortic aneurysm. After returning home, he curtailed his activities significantly. Several years ago, he started showing symptoms of Alzheimer's Disease. He was hospitalised twice this year. He returned home, singing "Jesus loves me, this I know," just a few days before his demise. On the afternoon of March 8, 2011, he quietly left the earth for a better home.

He was predeceased by his step-mother, Olive Carey, his son Paul Carey, and his brother, Otis Carey.

His survivors include his loving wife of 57 years, Dorothy Carey.Their children John and Vrynae, Charles and Vernelle, Michael and Delphine, Leo Jr., Derek and Rosamunde, Ricardo and Shanna, Susan, Judy, Barbara, and Sharon Carey, Katherine Carroll, Lateasha and Richard Lowe; Adopted Daughter Betty Carey-Sweeting; Thirty-eight grand-children, sixteen great-grandchildren, and numerous other relatives and friends.





© Copyright 2011 by thebahamasweekly.com

Top of Page