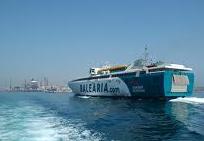 The Baleària ferry

Pinar del Río

, which will be running a new fast service this summer from Miami port to Bimini Island, arrived today at the port in Miami after having traveled from Spain. The fast ferry must now pass the inspections carried out by the authorities before beginning its service, which is scheduled for July 2011. Baleària also plans to invite the press to the ferry launch at the end of June and will take the opportunity to present the details of the new project.
The company will be running the Miami-Bimini route on a daily basis (except on Wednesdays) with the fast ferry

Pinar del Río

. This ship, which sails at a speed of 32 knots, has the capacity to hold 450 passengers, with 80 vehicles in the hold. Furthermore, the

Pinar del Rio

boasts different features such as a bar-cafeteria, duty-free shop, mini casino and first-class accommodation, among other things. The scheduled service timetables will enable passengers to make the most of Bimini by spending the whole day there
since the boat departs at 9.30 am, returning at 8.30pm, the duration of the journey being about two hours.
---------------------
El buque de Baleària

Pinar del Río

, que operará este verano un nuevo servicio rápido de transporte marítimo desde el puerto de Miami con conexiones a la isla de Bimini, ha llegado hoy al puerto de Miami procedente de España. Ahora, el fast ferry debe pasar las revisiones e inspecciones de las autoridades previas al inicio de la actividad, previsto para el próximo mes de julio. Asimismo, Baleària prevee convocar a todos los medios a finales de junio para visitar el buque y explicar todos los detalles del nuevo proyecto.
Cabe recordar que la compañía operará la línea Miami-Bimini diariamente (excepto los miércoles) con el fast ferry Pinar del Río. Este buque, que navega a una velocidad de 32 nudos, tiene una capacidad para 450 pasajeros y 80 vehículos en la bodega. Además, el Pinar del Rio dispone de diferentes prestaciones como bar-cafetería, tienda duty-free, mini Casino y acomodación primera clase entre otros. Los horarios programados permitirán a los clientes aprovechar todo el día en Bimini, ya que la salida será a las 9.30 am, el regreso a las 8.30pm y la duración del trayecto será alrededor de dos horas.
Baleària to launch a new fast ferry transport service in Miami this summer sailing to Bimini and Grand Bahama